After a down year in 2022, the Kansas City Roos volleyball team is lighting up their opponents in matches. 
  Starting off with a 9-3 record, the Roos are dominating on the court. In every facet of the game, Kansas City is overwhelming their competition. 
  The team has 626 kills and 77 aces. This comes after the Roos finished 10-21 in the 2022 season, missing the Summit League Championship Tournament.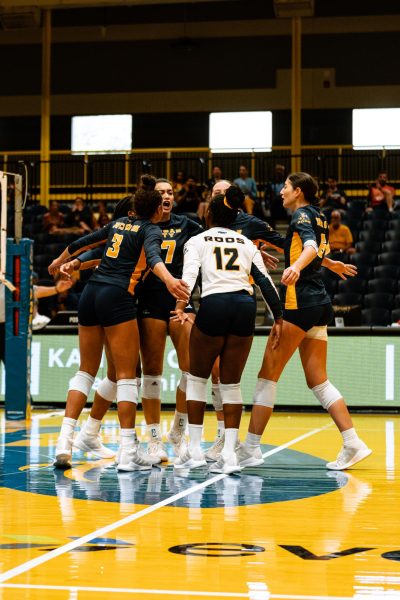 There are a number of players who returned for the 2023 season, such as sophomores Blair Taylor, Sydney Henry and Kimora Whetstone, junior Leah Greensenior and senior Odyssey Warren. 
  Senior outside hitter Kaia Dunford, who transferred from rival Oral Roberts, has recorded 150 kills and 173 digs this season – 23.9% of the kills and 20.6% of the digs for the entire team. 
  Junior middle blocker Sila Ozyurek, who transferred from Miami Dade College, has played in 47 of the 48 sets played and has 48 kills.
    The younger talent on the Roos team is an important factor. Only six of the 16 players on roster are upperclassmen. Of the five sophomores on roster, two – Henry and Whetstone – have played in all 48 sets, while Taylor has played in all but one. 
  With 156 kills and 11 service aces, Warren leads the team in points on the season. The most impressive part is that during the KC Roos Klassic last weekend, she recorded 64 kills in three matches. Prior to the match against the St. Louis University Billikens, she ranked 10th in total attacks and 19th in attacks per set in the nation.
  As a team, the Roos currently lead the Summit League by record, but the North Dakota State University Bison are not far behind with a record of 8-3. The Roos will play 16 matches against the other eight Summit League teams. The top six teams in the league will go to the championship tournament in November. 
  The Roos kick off Summit League play tonight against the University of Nebraska Omaha Mavericks in Omaha, then they return home to take on the South Dakota State Jackrabbits on Saturday. All home matches can be streamed on the Summit League Network via Midco Sports, and tickets can be purchased on the Kansas City Athletics site.