UMKC Women's Center hosted a Feminist Film Friday, featuring the first episode of the new Netflix series "Ladies First: A Story of Women In Hip-Hop." 
  Chelsie Duckworth, the senior program coordinator for the Women's Center, organized the event to highlight and celebrate the women who made waves in the genre, both in front and behind the camera.
  "When I heard about the Netflix series, I just knew we had to do it, there was no question," Duckworth said. "We always try to focus on women's issues and women's experiences in spaces that they're not really recognized."
  The episode included discussions of hard work, fighting for the spotlight and the passion it takes to follow your dreams. 
  The center invited two local rappers to participate in a Q&A panel about their relationship to hip-hop.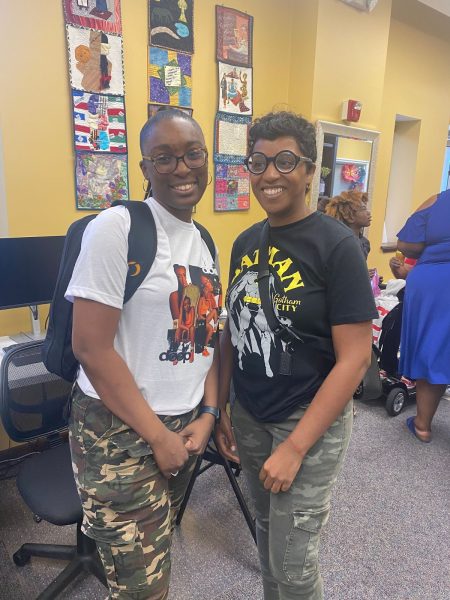 The artists, MC Storm and DJ Doop, answered questions about their time as UMKC students and how hip-hop has changed their lives.
  Both artists have roots in old school hip-hop, starting when they were just kids.
 "It started as a game like who could say the funniest thing. I used to start every rap with an LL Cool J lyric," Storm said, a now-graduate student at UMKC. 
  DJ Doop started out dancing to older hip-hop songs. "Afro Puffs" by The Lady of Rage was one of the first songs she can remember falling in love with. 
  When asked what hip hop meant to them, both panelists said hip-hop had an irreplaceable impact on them. 
 "Hip-hop is important to me because that's all I did when I was growing up. It really shaped me to who I am as a person," Storm said.  "I have a song that talks about my first love, and hip-hop is really my first love." 
  Doop explained that hip-hop helps her deal with her feelings. 
"Hip-hop was a way for us to express our pain and our emotion, and now that it's evolved, this is how we're coming together and having fun, this is us going through life together."
  To watch a recorded version of the event, click here.