A new exhibit at the Kemper Museum of Contemporary Art highlights Kansas City's lesser known lesbian history, and the artist used UMKC's Gay and Lesbian Archive of Mid-America to do it.
  Sarah Zapata's "So the roots be known" exhibit brings vibrant lavender to the Kemper's atrium. Zapata is a New York-based, Peruvian-American artist who primarily works with bright colors, as well as carpets and abstract patterns. Her exhibit at the Kemper is a display of many purple shades, lengthy ladders and shag carpet pieces draped across the installation.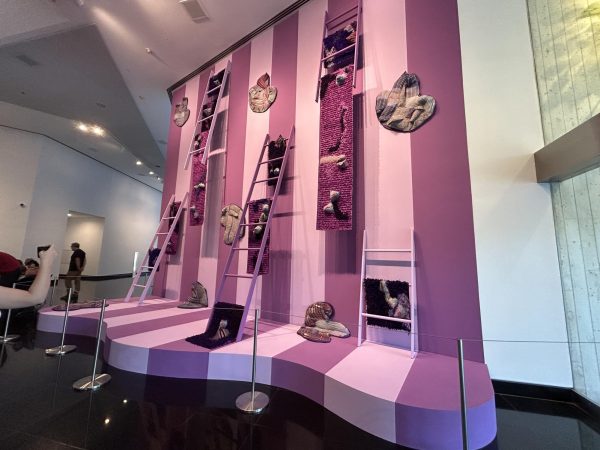 "I thought it was cool because she looked at the gay and lesbian archives to do some research before she did the installation, and she found a lot of local history," said Ellie Closen, Multigenerational Programs Coordinator at the Kemper Museum of Contemporary Art. 
  In part, Zapata's installation pays homage to Womontown, a group of primarily queer women who established a community in the Longfellow neighborhood of Kansas City in the 1980s. "She learned about Womontown. I just think it's really cool that she's bringing some of that into her current work, " Closen said. Zapata uses an abstract tulip motif and lavender to draw reference to Womontown's banner.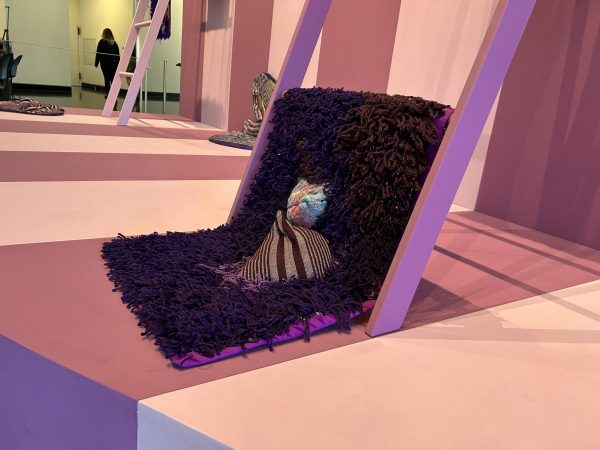 Zapata utilizes traditional art forms such as weaving, coiling, sewing and latch hooking to represent the intersections of her various identities.  
  "There's a lot of hidden meaning," Closen said. "I like all the research that went into it. I think it makes it richer and more exciting, although it is extremely visually exciting, too. It is a very fun thing. Not only is it very visually exciting, but there's a lot of research and symbolism within it as well." 
  The opening night reception was on Aug. 17, with a multigenerational audience present, as well as the artist herself to speak on her installation.
  "I thought [Zapata] did a great job and she had a great turnout," said Rita Terreros, special events staff at the Kemper Museum of Contemporary Art. "It was really interesting to see how she incorporated Womontown."
  More information can be found about Zapata's installation here and the exhibit remains on display until July 28, 2024.