UMKC Track and Field Runner Continues to Rewrite the Record Books
Ally Ryan is looking to continue her successful year as the indoor competition season comes to a close
  Just two months after breaking her own record in the mile, first-year graduate student Ally Ryan outran herself during the Husky Classic at the University of Washington in mid-February. 
  With an eye-popping time of 4:43.75, the data science student shaved about five seconds off of her previous school record of 4:48.6, set in December at Pittsburg State University. 
   "I've been hurt the past few years and haven't been able to run," Ryan said. "So to be able to get back on track and see some progress was really fun."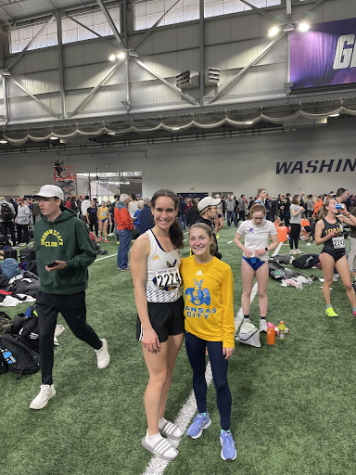 Ryan dealt with 2 Achilles injuries, soft tissue damage in her foot and a plantar fascia tear that kept her sidelined for 6 months. She battled by going through intense rehabilitation that helped her to heal.
  The speedy Roo broke a 10-year-old record set by former UMKC student-athlete and three-time Olympic silver medalist, Courtney Frerichs. 
  While running the mile is a solo sport, coaching makes a big difference when it comes to being a record-breaker. Ryan credits her reunion with Assistant Coach Clif Mitchell as playing a big part in her progress. Mitchell was Ryan's coach at Jenks High School in Tulsa, Oklahoma, and she mentions how Mitchell knows how to train and get the best work out of her.
  "I had really good success in high school with coach Mitchell so when I came here we just picked back up where we left off," Ryan said. 
  Micaela Martin, a communication major in her 5th year who is also on the track team, is proud of Ryan's accomplishments, as they have been teammates since their junior year of high school. 
  "She's the best and hardest working teammate I've been around," Martin said. "To see her break records after all the injuries she's dealt with was really cool to see." 
  Ryan has another year of eligibility, and she hopes to continue setting records. Come next year, Ryan believes she will be even better because of the extra time spent training and continuing to improve her health.  
  To learn more about the Roos' season and upcoming schedule, click here.