UMKC Career Services Hosts Networking in the 816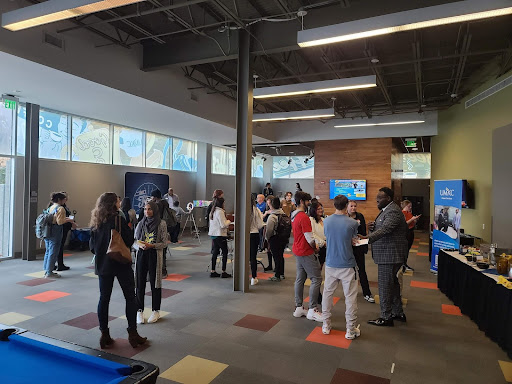 UMKC Career Services hosted Networking in the 816 on Nov. 9, an event where students had the opportunity to talk to local businesses and classmates.
   The event, which took place in the Jazzman Stage Area of the Student Union, was designed as a more intimate, "low-key" environment, and did not feature the typical booths and professional attire usually seen at career fairs. 
  "We wanted to get the students where they are," said Youssef Mekawy, a career coach in the Career Services Center. "We want them to be in an environment where they're comfortable."
   The idea was that some students may be intimidated by formality and the need to dress like they were going to a job interview.
  "There are no expectations of professional attire and the employers are very understanding of that," Mekawy said.
  Career Services also held a prep workshop for students who are unfamiliar or uncomfortable with professional etiquette and asking business questions. 
  "It was nice," said Bella Larue, a junior psychology major. "They covered all the important stuff."
   Some of the participating businesses included The Brand Lab, The Social Security Administration and Eurofins Labs.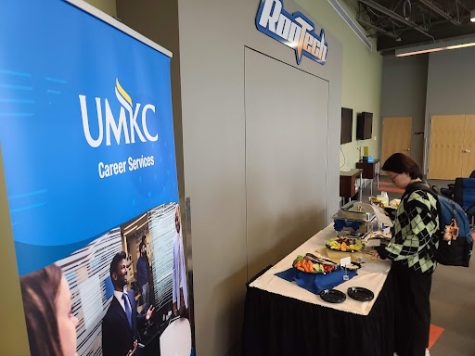 The partners were made aware that for some students, this was their first time networking or attending a career event. 
   "I can remember when I was this age," said Erica Bryles with the Social Security Administration. "You don't know what to ask."
   After talking to the businesses of their choice, the students could ask for a signature and use that as a ticket for a raffle. 
  The prizes for the raffle included a virtual info session with Arrow Senior Living, a coffee meetup with members of the Social Security Administration, a job shadowing opportunity at the St. Louis Eurofins Lab, a shadowing experience at the Missouri Department of Health and Senior Services, a coffee meetup with the Kansas City Teachers Residency or a $10 Starbucks gift card. 
  "Get involved," said Gabriel Kunzler, a freshman business administration major who was working at the event. "It's the best way to make your college experience fun."
  The office of Career Services is considering hosting this event again in the future. If you're interested, be sure to keep an eye out on RooGroups and Handshake for Networking in the 816.