"That's what Roos do," shouts Sporting Kansas City hype man and UMKC alum, Hartzell Gray to the applause from a crowd of UMKC students and alumni. 
  At the first-ever collaboration between the university and alumni-owned apparel shop Made Mobb, drinks were flowing, tags were popped and community was key. 
  With multiple performances, 11 vendors inside and three food and drink stations outside, the evening showcased local businesses owned and operated entirely by alumni, as well as current students. 
  Two years after forming a successful partnership with the Chiefs, the owner of Made Mobb and class of 2012 UMKC graduate Vu Nguyen said it felt like a full circle moment to work with his alma mater. 
  "We slid in the DMs," Nguyen said. From there, it was only a matter of months before their Friday the 13th launch this October. 
  "We love everything in this city," Nguyen said. "I think the collaboration shows that what we're about is community." 
  A preview party allowed select alumni the first chance to snag the limited-edition merchandise.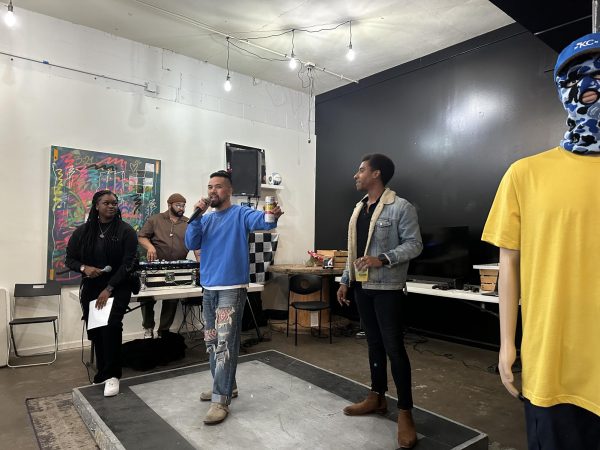 Managing Director of Alumni Relations and co-organizer of the event Kaity Woody, was pleased with the early response received by those invited to attend. 
  "Everybody's coming out to support and shop not only the collection but also the students and alumni vendors," Woody said. "It's just really exciting."
  When the doors opened up to the rest of the public, the store filled up fast and hangers flew off the racks. The collection was a huge hit. 
  UMKC celebrates engagement month in October and Sarah Dressler, the university's Operations Manager for Creative Services and co-organizer of the event, knew this would be the perfect way to amplify that. 
  "I think it's been really great," Dressler said. "Just being able to collaborate and work together and just really highlight all of the great things about the university. We're really hoping to try to make this an annual event."
  The collection of 8 unique designs is available for purchase here.