Renaissance festivals are beloved annual events that allow patrons to step back in time to the 16th century European Renaissance. 
  Festival-goers are transported to an immersive historical recreation filled with characters, performances, food, and old-world crafts. Costumed cast members play roles and interact with patrons, bringing the setting to life.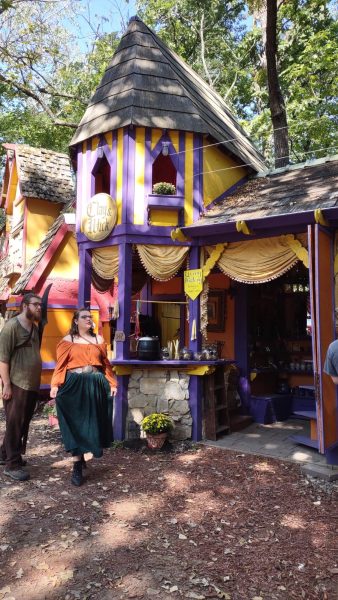 The Kansas City Renaissance Festival is one of the largest and most popular renaissance themed events nationwide. Taking place in Bonner Springs, KS, yet set in 1530's Canterbury, England, this affair has an annual attendance of 200,000 people. 
  Chris Rosebrough, more commonly known as Professor Darin Mercury, has acted as a renowned academic of natural sciences and Adventure Master Extraordinaire at the festival for the past seven seasons.
  The performer said the community fostered from the event plays a role in what keeps him coming back every year. 
  "It's delightful to watch new relationships blossom among us," Rosebrough said. ""I love seeing my fellow cast members grow as people and performers."
  Rosebrough shared that the friendships made at the event will outlast any performance he does. His wife plays a mermaid within the gardens at the festival.
  He said that it is the interactive nature of the festival that brings him the most joy and its lighthearted atmosphere lifts his mood, even on the hard days. 
  "Patrons are the main characters here, not us. We are simply supporting roles to facilitate their experience and make it the best it can be," Mercury said. "Our role is to guide and assist them in having a grand time."
  The actor devotes himself to facilitating a magical experience for everyone who comes.
  "This place is like a second family. It's home, all the way out here, and we get to share it."
  The last weekend of the Kansas City Renaissance Festival is this weekend, Oct. 15. Tickets can be purchased here.