UMKC reports nine COVID cases in first week of spring semester
UMKC confirmed nine cases of COVID-19 on campus as the first week of the spring semester comes to a close.
Two of the new cases were from individuals who visited the Student Health and Wellness center on Jan. 22. One reported case involved an individual in the Durwood Stadium locker room on Jan. 18. UMKC was notified of the case, as sports teams have resumed in-person practices.
UMKC classes will remain entirely online until Feb. 1, when in-person classes will resume on campus as scheduled.
A total of 343 confirmed COVID-19 cases were reported on campus at UMKC from the start of the fall semester until Jan. 19. UMKC's case rate for that time was 2.1 positive cases per 100 students.
Other Missouri universities experienced higher rates of COVID-19 among their student populations. Missouri S&T and Missouri State had rates of close to 6.5 per 100 students, while the University of Missouri had a rate of 9.2 cases per 100 students.
UMKC experienced two peaks in case averages in the fall semester. The first was in early to mid September, where the average number of cases per day for the past seven days was above 4.5. The second peak occurred the weeks after Halloween, when UMKC averaged 6.7 cases per day.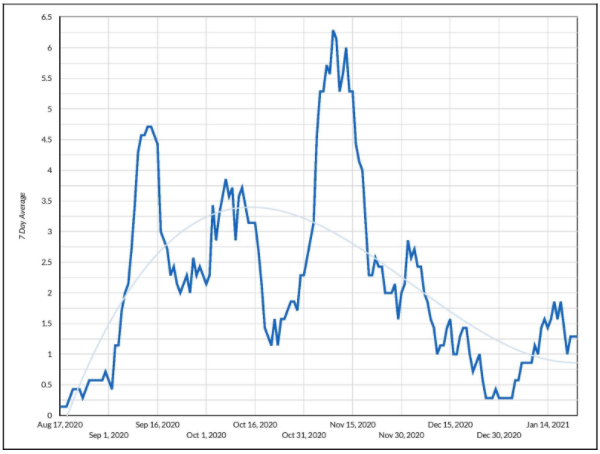 President Biden made news with executive orders that now require federal employees and contractors to wear masks at all times in federal buildings, with case-by-case exceptions, according to AP News. The newly-sworn in president is also limiting the number of people in the White House, with many administration employees working from home.

In Kansas City, Mayor Quinton Lucas announced that there will likely not be a parade celebrating a Chiefs' win should the football team win the Super Bowl. Lucas is also urging fans to celebrate in a responsible manner and prevent the spread of the virus.
The Kansas City Star editorial board criticized Lucas for attending Chiefs' games in person despite previously stating "I don't think I'll be going out to the stadium."