Kansas Citians celebrate results of presidential election
Just under 100 Kansas City residents gathered at Mill Creek Park on Saturday to celebrate former Vice President Joe Biden's projected victory in the 2020 U.S. presidential election. 
The demonstration mirrored others held in cities across the nation after multiple media outlets projected Biden had won Pennsylvania, one of the key swing states that had been in contention for nearly four days.
Demonstrators in Kansas City celebrated with dances and chants in favor of the president-elect. They were met with supportive honks and cheers from many passing vehicles, some of which proudly displayed their own signs or flags of support.
"The celebration on the Plaza was a moment for all of Kansas City to come together and celebrate this victory," said Justice Horn, former UMKC SGA president and a member of the Biden campaign. "The Biden-Harris Victory only happened because we all agreed that hope will win over fear, that truth will prevail over lies. We stood at a pivotal time for our country, our state and especially our community. This election showed that there are still brighter days ahead of us."
The 2020 election was historic. Voters turned out in record numbers, casting approximately 147 million ballots, the most in any presidential election. The projected victory of Vice President-Elect Kamala Harris also signals the first time a woman, and additionally a woman of color, will serve as vice president of the United States. Many flocked to social media and spoke about the significance of the victory, including Kansas City Mayor Quinton Lucas.
"As someone who remembers seeing the pictures of presidents and vice presidents when I grew up, what amazing pride every little girl—and little boy now—can have seeing a picture of Vice President-Elect Kamala Harris," Lucas wrote on Twitter.
Lucas went on to quote President-Elect Biden, calling Harris's election a "big f****** deal."
UMKC College Democrats President Mason McGregor said that the projected victory felt like a weight had been lifted off the nation's shoulders.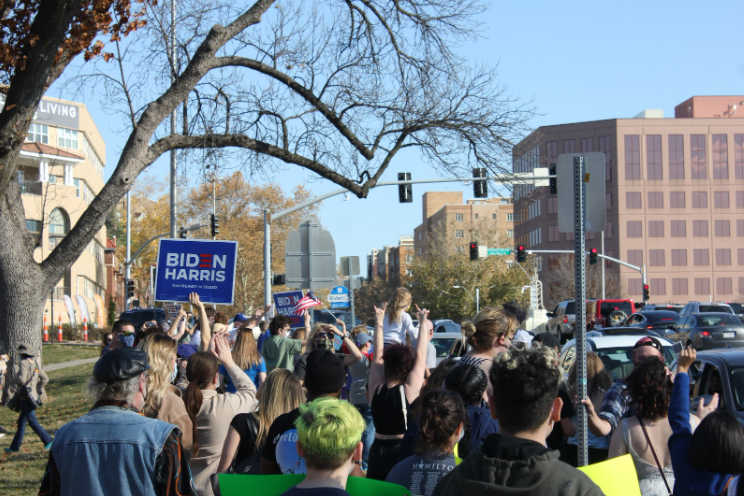 "While I know that Biden isn't exactly a progressive champion who wants to implement the major structural changes we need, the descent towards authoritarianism represented by Donald Trump has been terrifying," McGregor said. "It's easier to push for necessary change in a slow-moving liberal democracy than a sinking neofascist autocracy, and I'm beyond glad that America chose the former rather than the latter."
Both McGregor and Horn emphasized that this victory should not be the end of the Democratic Party's work. McGregor spoke about the need to progress forward from the status quo established under former President Obama in particular.
"There are so many interconnecting systems that need radical restructuring in America – from the police, to the fossil fuel industry, to education, to our healthcare system – and we have a duty to ourselves, the underprivileged, and the planet as a whole to ensure we make the necessary changes," McGregor said.
Horn spoke about the Democratic Party's losses of local elections throughout the state and how they signaled a need for introspection within the party.
"It's clear, those in leadership, from the very top of the Missouri Democrat party to the College Democrats all over Missouri, need to take a hard look at what kind of party we want to be," Horn said. "We are losers. We need to diversify our leadership boards and be a party that cares more about people, not just power."