From sprawling across 15 million acres to now covering less than half a percent of the state, Missouri's prairies are some of the most endangered ecosystems in North America.
  Conservationists from across the country are working to maintain, restore and reconstruct some of these lost prairies even as close as 35 miles from UMKC, and some are using a unique method – goats. 
  At Powell Gardens, Kansas City's Botanical Garden, head conservationist Julie Copley said she has a passion for conservation that stems from growing up on prairie land lost to agriculture.
  "There's a lot of weight to how much [habitat] we've lost," Copley said. "But if you actually go out into a prairie, it's pretty inspiring to see the community that exists there."
  Copley works to maintain multiple prairies with proven methods like controlled fire and even reconstructs prairies from the soil up. However, more recently, she is experimenting with goats to combat the invasive plant, Sericea Lespedeza (​​Lespedeza cuneata).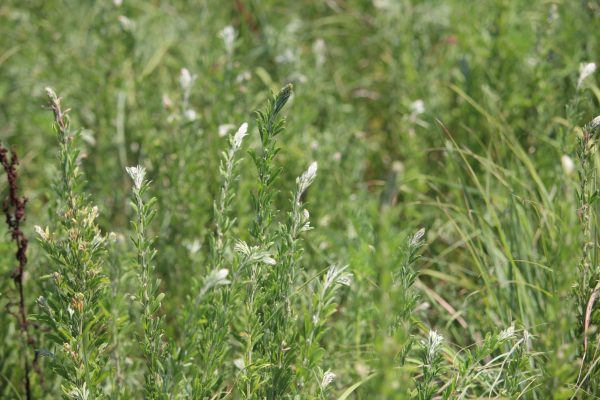 This aggressive species outcompetes and outlives native plants with its fire-resistant seeds, which can remain dormant and undetected for over 30 years in the soil. Fortunately, these plants are also tasty treats … for goats. 
  Currently, Powell Gardens is renting 59 goats from Goats on the Go, a company that specializes in weed, bush, and invasive species removal. 
  "The goats allow for other species to compete," Copley said. "It doesn't fully eradicate Sericea Lespedeza, but it does help the others [native species] have a chance." 
  While this plant is not favorable to prairies, livestock owners use it for food and as a tool to manage intestinal parasites. In fact, Sericea Lespedeza was first introduced for cattle farming in this area before it became Powell Gardens. 
  Sericea Lespedeza is not the only species invading prairies. Common plants like bush honeysuckle, Johnson grass, and even some trees threaten the existence of rare ecosystems. 
  Senior Earth and Environmental Science student Elena Payne, a conservation intern at Powell Gardens, said she discovered what it means to truly care for a habitat while working at the gardens. 
  "Most surprising for me was that all trees aren't good," Payne said. "Maintaining a prairie means some tree removal, and I've learned what an ecosystem needs, even if it goes against my preconceived notions."
  This balancing of ecosystems is part of the challenge of conservation along with prioritizing endangered species. According to Copley, prairies have diversity comparable to the Amazon rainforest but are disappearing at a faster rate.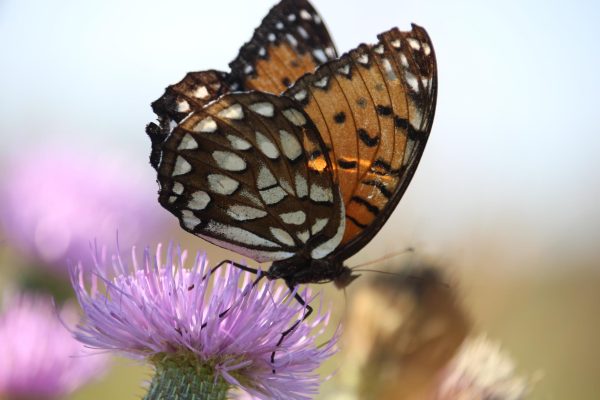 Some of the threatened and endangered species on Powell Gardens' prairies rely on plants only found in these ecosystems, including birds like Meadowlarks and Savanah Sparrows, and butterflies like the Regal Fritillary (shown above). 
  In the future, Copley hopes to continue her stewardship of prairies and bring awareness to their importance by engaging the community. 
  "It's a tall task that's going to take a lot of time and a lot of hands," Copley said. "But at Powell Gardens, we have a special connection because we get to share the prairie with people visiting for a variety of reasons like music, art, festivals, volunteering, education classes and butterflies." 
  Many of Powell Gardens' operations rely on volunteers. These people give their time to help run events, maintain the gardens, and assist conservation efforts. 
  UMKC students can earn class credit for volunteering. Eligibility is based on major and must be confirmed by the school of each degree. Students interested in earning this credit should talk to their advisor. 
 Outside of volunteering, Powell Gardens hosts many events and hires a summer conservation intern that works alongside the head of conservation. More information about the internship will be posted on the Powell Gardens website in February 2024.