Professor Clancy Martin in new book gives tools to cope with suicide
Frankness, Philosophy, Humor
  In his new book, "How Not to Kill Yourself: Portrait of the Suicidal Mind," UMKC philosophy professor Clancy Martin addresses suicide with realness and even humor.
  The Kansas City Plaza Library hosted Martin on March 23 to promote his most recent work, which came out on March 28.
  "We treat the topic of death as if the less we talk about it, somehow we'll avoid it," Clancy said. "I will bring humor into it, to ease the burden."
  The conversation between Angela Elam and Martin covered Martin's background, his history with suicide and how his passion for philosophy has helped him on his journey.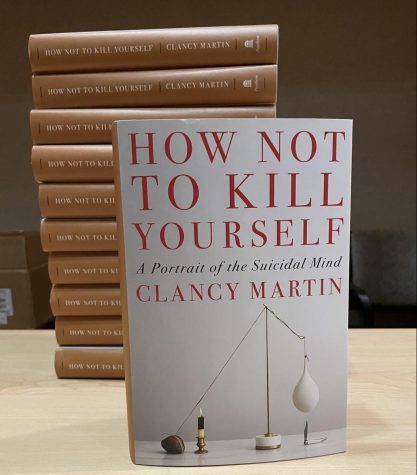 The initial inspiration for the book came from Martin's editor, who had someone close to them attempt to take their own life, and pushed Martin to write about his past experiences. From there, Martin wrote 'I'm Still Here', which recounts his time in psychiatric wards and his history of suicidal ideation. However, the response was more than he expected.
  "I had people email me saying they were looking up how to kill themselves, and instead found and read my article," Martin said. 
  Out of that response, he felt the desire to give the topic a fuller treatment.
  A few years later, his book was ready, Martin said "The original manuscript was twice as long".
  Everyone at the event quickly picked up on Martin's love for philosophy as he quoted Mahatma Gandhi, Khyentse Norbu and various others. 
  Julian Scalici, a freshman at UMKC said he appreciated how Martin was "approaching a delicate subject with humor. He offered a good reminder to be selfless."
  Landrea Van Mol, a sophomore who attended the event after reading 'I'm Still Here', agreed with Martin.
  After Martin had touched on how he believes we all have a death drive, Van Mol said, "He's right, everyone thinks about death,". She continued, "The burden he must carry, he is brave to write this book. It's inspirational."
  "I wanted to bring the reader into the story, and show them how it expands centuries and cultures," Martin said on his reasoning to pull from various thinkers and philosophers from Robin Williams to Buddha. 
  Martin's book can be purchased at Amazon, and Penguin Random House.