Review: Taylor Swift's Midnights is a Masterpiece
  With the stroke of midnight on a late October eve, Taylor Swift brought fans on a "journey through terrors and sweet dreams," with her new album, "Midnights."
 People are brought to the middle of the night for many reasons, whether it's self-hatred, what ifs, revenge fantasies, love or heartbreak.
  As one of her most vulnerable albums, "Midnights" is about reflection, and we really get a sense of Swift's deepest inner anxieties and experiences.
  Swift encapsulates all of this in her now 20-song project. 
  "Midnights" originally covered 13 sleepless nights of Swift's life, but to fans' delight, seven more songs were released at 3 a.m. the night of the album's debut.
  "Midnights is a collage of intensity, highs and lows and ebbs and flows," Swift told fans on social media following the release. "Life can be dark, starry, cloudy, terrifying, electrifying, hot, cold, romantic or lonely. Just like Midnights."
  This album as a whole feels more chaotic and less coherent than her others.
  While the consistent flow throughout her albums is part of her charm, I think the range of emotion and energy listeners experience in "Midnights" truly captures the feeling of staying up into the dark hours of the night.
  In just a few midnights, this album has already become the top selling album of 2022, and to say the least, Swift is a "Mastermind."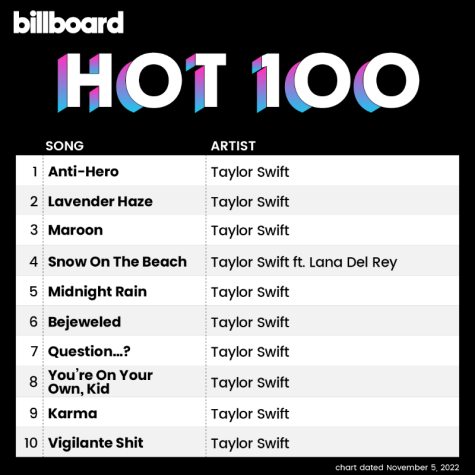 She has broken countless records, becoming the first artist in history to claim all top 10 spots on the Billboard Hot 100. "Midnights" sold 1.578 million equivalent album sales in the U.S. through its first week. More than 1 million sales were purchases of the album as a whole.
  Swift also broke records at Apple and Amazon Music along with Spotify's record of most streamed artist and album in a day. That's a real legacy to leave. 
  Some fans have expressed dislike for "Midnights" as it's jarringly different from her last two folk albums. Though they shouldn't have been surprised. Taylor Swift is known for jumping genres. 
  "Midnights" does a wonderful job of giving fans the nostalgic feel of her pop music while also bringing something new to the table.
  It might not have as much raw emotion as "Folklore" or "Evermore", but frankly, it's just fun.
  One of the beautiful things about Swift's music is that you can find deeper meaning in almost all of her songs, but you can also just enjoy yourself. I see it as a win if I can dance around my room singing about karma being a cat.
  The amount of effort and planning that went into "Midnights" is insane. Swift and her team are undeniably marketing geniuses. 
  Swift had fans tuning into Thursday Night Football before the release, a crossover I never thought I would see, just to get a glimpse of the album.
 The madness of "Midnights" didn't just stop with an album drop. Swift keeps producing content. 
  So far, music videos for her songs "Anti-Hero" and "Bejeweled" have been released, with more to come. Then, after leaving fans speculating, she has announced a tour. 
  The so-called "Eras tour," is scheduled to hit U.S. stadiums beginning in March 2023 and running into August, with international dates to be revealed later.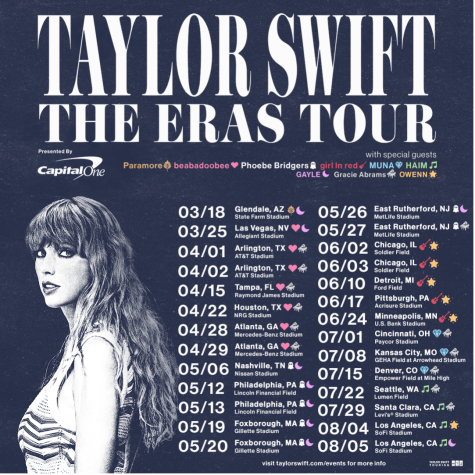 Fans can get tickets starting Nov. 15 and are able to sign up for a presale with Ticketmaster through Nov. 9 linked on her Instagram. The tickets will run from $49 up to $449, with VIP packages that start at $199 and go up to $899.
  The show will feature many talented opening artists, and Swift's songs through the eras. A set list hasn't been revealed yet.
  Swift's shows are known to be amazing, and I'm sure whatever she has in store for fans will be spectacular.
  Often, I feel that Swift's work gets discredited because she is a mainstream pop artist. It might be "basic" to like her, but that's not a bad thing. She has 11 Grammys and multiple other awards for a reason.
  So, to those who dislike "Midnights", in the wise words of Taylor Swift, "haters gonna hate."
  I say, "Shake it off," and give the album another chance.