Students gathered at a demonstration last Monday, Jan. 25 outside Oak Street Hall to bring advocacy for sexual assault survivors and force a change to sexual assault policies at UMKC.
The demonstration was organized by UMKC sophomore Skyler Boschen exactly one year after she was sexually assaulted.
Last January, Boschen was raped in her dorm room during a party she was hosting. The rape occurred in front of many witnesses and the rapist was a student at UMKC.
Two days after the assault, Boschen reported the rape to UMKC's Title IX office. This January, a year after the incident, she was able to report the assault to campus police.
UMKC suspended the student who committed the rape until Dec. 15, 2021 for sexual misconduct in the form of non-consensual sexual intercourse.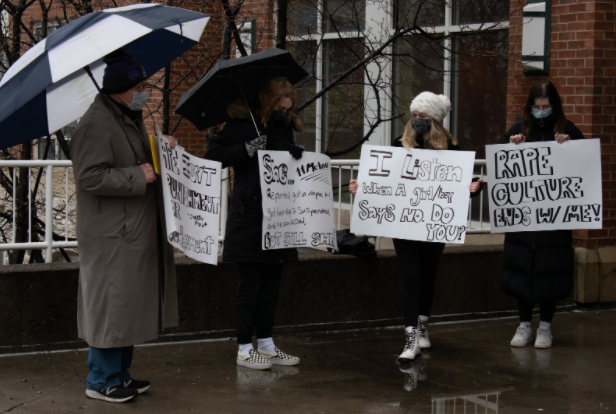 Boschen said that she faced extreme backlash and scrutiny from friends of her assaulter and people in her dorm who claimed she was lying. While she did receive some academic relief, Boschen said she had very little physical protection in terms of being walked to and from class and having someone to help her through her situation.
"One of the main things that I want to work towards is making sure that survivors have an advocate on campus," Boschen said. "That doesn't really exist, and I really wish I had one."
After the assault, Boschen continued to come in contact with the student who raped her because they lived in the same dorm only a floor apart. Despite being the victim, she was not given many options for relief, instead being asked if she preferred to move out herself.
Boschen was vocal about her disappointment with the university's handling of her situation, stating that she would have liked to have more support after the rape.
"When I was giving my speech, I broke down crying," Boschen said. "You don't just get over it — it's something that affects you for the rest of your life."
Enduring the cold and rain, student demonstrators joined Boschen in her stand again sexual violence on campus. Students carried signs with messages such as "We deserve a rape-free campus" and "I was 17 and blacked out. Was I still 'asking for it?'"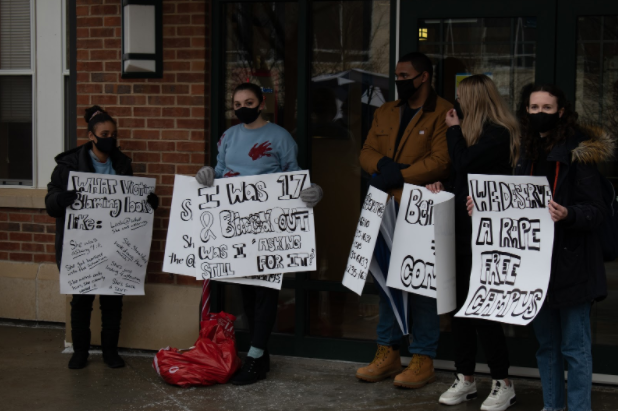 In a study done by Rainn.org, it was reported that 26% of undergraduate students will experience sexual assault on campus.
National experts have said sexual assaults and rapes are very rarely reported among victims due to fear of their assaulter or fear no action will be taken.