Steve Snell, a KC local and Kansas City Art Institute professor, canoed across the Missouri River and documented his experience through paint. 
  His exhibit is titled "From the Canoe: A Missouri River Adventure" and it can be seen at the UMKC Gallery of Art.
 Snell paddled from Montana to St. Louis along the Missouri River and recorded the experience through videos of himself painting on the water, where he created vivid, watercolor landscapes of nature.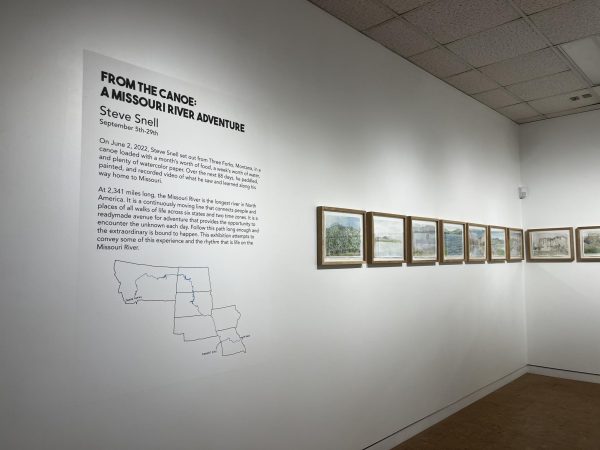 "If you could imagine Bob Ross on like a survival reality show, it's a little bit of that mixed with like a PBS documentary," said Snell. "You're encountering an unknown. You're risking failure. You're looking for an interesting, exceptional life experience."
  Snell traveled for 88 days along the river, he was met with generosity from many strangers and consumed snacks he found in gas stations along the way. 
  This experience was highlighted at the opening night of his exhibit, where Snell showcased some classic snacks in addition to the art.
  "We had a lot of snacks like Goldfish, Hot Cheetos, pretzels and chocolate Donettes," said Olivia O'Keefe, an intern at UMKC Gallery of Art. "Most of his stuff was fun, carb snacks because they fill you up."
  The exhibit ties in themes of adventure and risk, but also an appreciation for Kansas City's main water resource: the Missouri River.
  "His work has a regional feel to it, but it's also connected to other states," said Davin Watne, director and head curator of UMKC Gallery of Art. "The Missouri River is something we completely take for granted. It's largely our main water source. Some people don't realize that we drink that water and everything we do goes back into that."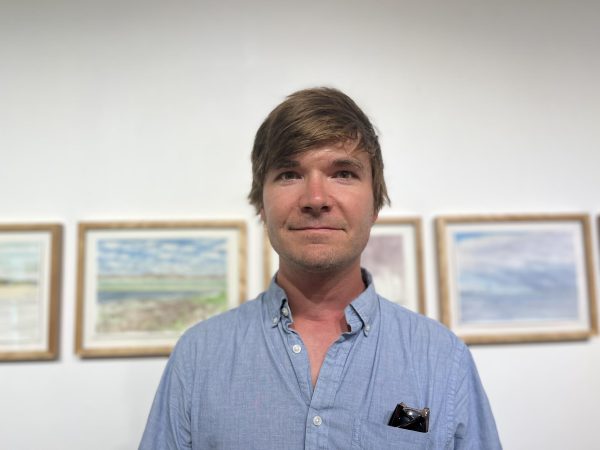 Snell used the Missouri River not as just a means of transportation, but also in the direct production of his watercolor paintings, using the river water to paint.
  "I don't know if I found any difference in quality or texture," Snell said. "I found a difference in convenience. Conceptually, I like the linkage that the work is literally made from the river. In some of these places, my drinking water was really precious and I didn't want to use any of it to paint, so I could use the uncleaned water for the painting side."
  The audio of the exhibit's videos was also enhanced to recreate the feeling of being on the water.
  "So much of the experience is by yourself, solitude and the beauty that you find in these quiet moments. I didn't bring headphones or anything to listen to music," Snell said. "Looking back now, one of the most fond parts I have are those quiet moments where you just don't hear anything but the wind or the waves or the paddle or the birds." 
  Snell wants to encourage people to use his journey as inspiration to take a risk. 
  "I think it's important to push yourself out of your comfort zone sometimes to open yourself up to these unusual or extraordinary moments," said Snell. "That sense of a break from the norm, the element of the unknown, of risk and failure is worth it."
  To see more of Snell's upcoming events, check out UMKC's Department of Media, Art and Design's Instagram. 
  The exhibit had an opening reception on Sept. 5 and will be on campus until Sept. 29.