Members of the National Pan-Hellenic Council (NPHC) and UMKC students and staff gathered together to celebrate legacy, prosperity and unity on Sept. 9 in the Quad outside of Scofield Hall at the newly constructed Divine 9 Monument Garden.
  The Divine 9 consists of the black fraternities and sororities that make up the NPHC, however there are only six active organizations on campus.
  Calvin Flemons, president of Delta Rho and member of Alpha Phi Alpha Fraternity Incorporated explains the purpose for this event.
  "This is just an opportunity for us to have representation and to show the campus the NPHC," Flemons said. "We want to be well known."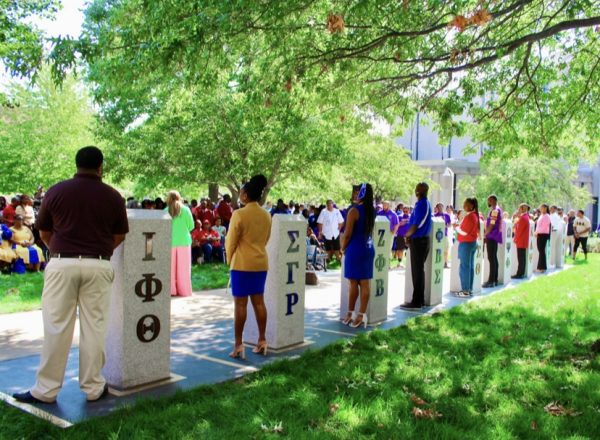 Cheyenne McGary, president of Lambda Epsilon Chapter and a member of Delta Sigma Theta Sorority Incorporated expressed her emotions during the event.
  "This makes me feel proud! To me, it's deeper than Delta because though we are different organizations, we are on the same team," McGary said. "To celebrate with 8 other amazing organizations is something special." 
  McGary notes it is important for UMKC students and staff to acknowledge the hardships members of NPHC faced.
  "Students and staff should understand that our legacy has always been here. So, to the outside looking in, this is the beginning; but to us, this is decades of hard work, determination, and perseverance," McGary said.
  In addition to the new garden, "Legacy in Bloom: The History and Influence of the Divine Nine" is a two-part exhibit commissioned by the UMKC honoring the NPHC and their constituent organizations.  
  According to McGary, Legacy in Bloom means leaving a path to flourish and be proud of. 
  The exhibit is located in the Miller Nichols Library on the fourth floor.