Bubble Wrapp KC: Where Indie Art and Toys Come Together
  Some people think toys are just for kids — chunks of cheap plastic made to fill a landfill someday. But Kitty and Nate, owners of Bubble Wrapp KC, see things differently; to them, toys are works of art. 
  Having just opened in October, Bubble Wrapp brings the exciting world of designer toys to Kansas City. Until its grand opening in Westport, it was exclusively an online store operating out of their apartment bedroom.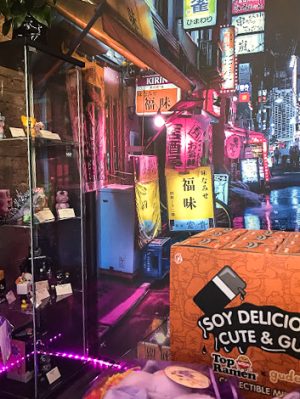 From the outside, the shop looks like any other old building lining the streets of Westport. But once you walk inside, you've entered a new dimension: with a mural of downtown Tokyo at the back of the store and collectibles decorating the walls. It's colorful, cute, and a little bit strange. 
  "We're in the middle of the middle of the United States, but we did our best to create an environment that feels [like] you're going someplace else," Nate said. 
  As first-time shoppers entered during the store's opening, they were overwhelmed by the walls lined with unusual and eye-popping toys, blind boxes, and plushies.
  The scarcity of Bubble Wrapp's stock is part of what makes the store so unique. It carries beloved brands such as Sanrio and Tokidoki, but also has merchandise handcrafted by independent artists and produced in small batches. 
  "Some of my favorite pieces personally are pieces that have been Bubble Wrapp exclusives. These are pieces made exclusively for us. You can't get them anywhere else," Kitty said.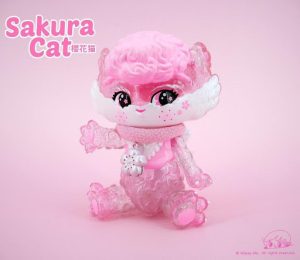 Among their favorite custom pieces is Sakura Cat, a sparkly, pink posable creation from Hong Kong artist and designer Miloza Ma. The toy is made from sofubi, a type of soft vinyl only available in Japan. The price tag — a whopping $95 — may come as a shock to toy-collecting newbies. 
  "A lot of the pieces that we carry people are going to look at, and without an education or a history of the industry, they're not going to understand; well, why is this piece of plastic $50?" Kitty said. "It's because this was made by one person in Japan who did this whole thing themselves."
  Bubble Wrapp has something for every price point, such as $10 toys from the shop's capsule machines or smaller items such as stickers, stationery, or Asian snacks and drinks. 
  Anyone who's interested in pop culture, art, or anime will appreciate the store's aesthetic, and even a person completely unfamiliar with those things could randomly fall in love with one of their unique pieces.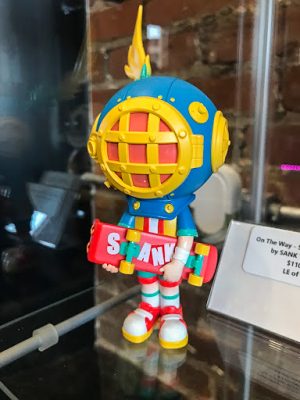 Although Bubble Wrapp is a retail space, it's also a platform for artists. 
  In the past, the store has hosted online gallery shows; now that it has an actual storefront, its owners hope to collaborate with local independent artists and college students. 
  "Our plan is to connect with and work with local colleges, art students in particular," Kitty said. "We'd love to maybe host some gallery shows or work with artists that are looking into doing graphic design work, or just fine art in general, whether it's carrying their products or having them do design work for us." 
  Bubble Wrapp anticipates reaching out to local universities sometime after the holidays. In the meantime, the store is open to the public from 12 to 6 p.m., Wednesday through Saturday, located at 2 Westport Road or visit their store online. 
Leave a Comment
Your donation will support the student journalists of University of Missouri - Kansas City. Your contribution will allow us to purchase equipment and cover our annual website hosting costs.