Jake Meyer
Students sick of fruitlessly looking for a campus parking spot and hesitant to trust themselves on a Bird scooter, may want to look into the "earn-a-bike" program.
The Bike Shop by RevolveKC is hosting the program, which offers people the opportunity to earn their own bike by taking an online bicycle safety class.
The class is expected to take about two hours to complete and ends with a brief exam. The program fee is $20 for children under 14 and $40 for participants 14 and up. However, there is a reduced fee of $20 for those who don't own a vehicle or are homeless.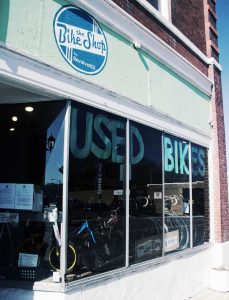 The Bike Shop is a nonprofit establishment aiming to provide underserved communities in the greater-Kansas City region with reliable bicycles for transportation and recreation. They do this by rescuing, refurbishing and redistributing bicycles as the solution for healthy lifestyles and affordable, earth-friendly transportation.
So far, the program has provided cheap and eco-friendly transportation for 1,500 people in the area through the earn-a-bike program alone.
If you have a slightly bigger budget or a passion for cool bicycles, The Bike Shop also sells a wide assortment of retro, classic and vintage bikes at their two brick-and-mortar stores, located at 5509 Troost in Kansas City, Missouri, and 554 Central Avenue in Kansas City, Kansas.
Detailed instructions for participation and a link to the safety course can be found on the Bike Shop's website, www.revolvekc.org/earn-a-bike/.
jamk6b@mail.umkc.edu