The Kansas City Roos are Summit League regular season champions for the first time in program history.
  After finishing with a 12-4 conference record and 21-7 overall for the season, the Roos split the title with the Omaha Mavericks, Denver Pioneers and South Dakota Coyotes.
  Kansas City took on the St. Thomas Tommies in their final regular season match of the season. The Roos came to play and swept the Tommies in three sets.
  However, one game doesn't define a season. The Roos powered through 28 matches to claim the first seed in the conference.
  Several players recorded historic seasons, led off by senior outside hitter Odyssey Warren. While Warren fell only six kills short of tying 11th place in the UMKC record book, she broke a personal record of 1,259 kills with 1,270. This record places her at second all-time. 
  Other stars this season include junior libero Leah Green and senior outside hitter Kaia Dunford.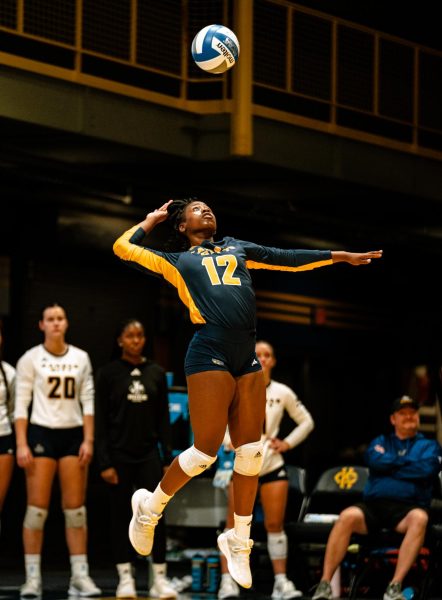 While Green didn't quite make the record board in digs, she placed herself among the leaders in digs per set at 9th with 4.72.
  Dunford placed herself at 8th place all-time in single season kills with 1,112.
  Career-wise, Green will now be ranked 10th all-time with 3.14 digs/set and will look to get on the board for digs and service aces next season. Dunford put herself 9th all-time with 1,056 kills and fifth all-time with 3,546 total attacks. 
  Warren, however, was most impressive. She broke the school record for career kills with 3,961.
  On Nov. 19, the fourth-seeded South Dakota Coyotes and fifth-seeded North Dakota State Bison face off, and the winner takes on the Roos. 
  Kansas City split their series against North Dakota State. Against South Dakota, the Roos won both matches. 
  Anything could happen, but one thing is for certain: it will be an entertaining tournament.
  Watch the Roos play on Nov. 20 on the Summit League Network via Midco Sports.