Lukas Kenney & Abbey Higginbotham
The mother of a UMKC School of Law student says she informed the administration that her daughter tested positive for COVID-19 on March 21, four days before the university informed the campus community on March 25.
University officials denied these claims and said they informed the UMKC public as soon as they had confirmation of a positive COVID-19 case.
The student's mother, Louise Lynch, first came forward with these allegations in an article published by The Kansas City Star on April 1.
"I have physical proof," said Lynch in an interview with UNews. "I left a voicemail for the chancellor on his personal cell phone upon finding out."
Lynch's phone shows that she left a voicemail to UMKC Chancellor Mauli Agrawal's personal cell phone at 1:14 p.m. on March 21. As an outgoing message, the contents of the voicemail were not available to be verified.
Lynch also said that a School of Law professor insisted her daughter come to campus for a meeting on March 16, even though UMKC had switched to online classes, and the daughter requested a meeting via Zoom.
"Why was my daughter made to go to school on the 16th?" Lynch said. "Why are you even suggesting it when you know they just closed down classes? Knowing my daughter has disability accommodations, knowing my daughter has an undiagnosed autoimmune disorder, why? I have proof my daughter asked for a Zoom session."
Lynch's phone shows an email exchange between her daughter and the law professor. The student suggested a teleconference, and the professor wrote back saying they would prefer an in-person meeting.
"She was afraid of the teacher, so she said, 'OK, I'll go,'" said Lynch.
According to Lynch, after the student went to campus for the meeting, she immediately went to her doctor and learned she had a fever of 102.8 and bacterial pneumonia. The student was admitted to the hospital on March 20 with a fever of 103.5 and low oxygen levels, and she tested positive for COVID-19 the next day, Lynch said.
After testing positive, the student gave her mother a list of those at UMKC she may have exposed to the virus, Lynch said. The mother said she then began reaching out to those individuals as early as March 21.
Lynch said doctors informed her that her daughter contracted the virus approximately five days before she was diagnosed with COVID-19 on March 21.
The university issued a campuswide notice on March 25 stating that a student had tested positive for COVID-19. The letter did not mention that the student was in the School of Law, nor that she'd been on campus on March 16.
Multiple sources at UMKC denied that the university had any knowledge of the student testing positive for COVID-19 prior to March 25.
"The mother made several contacts to campus on March 20-21, regarding her student's diagnosis of pneumonia and to discuss the impact of illness on the student's coursework," said UMKC spokeswoman Stacy Downs. "At no time did she say that the student had been tested for coronavirus, much less that the student had tested positive."
Interim provost Dr. Jennifer Lundgren also addressed the allegations in an interview with UNews.
"There's been some misinformation swirling out there," said Lundgren. "We received notification from the health department that there was a positive case on March 25. We did not have any information before that about a positive test result."
Obie Austin, UMKC Student Health and Wellness Administrator, confirmed that he heard word of a student's positive test result on March 25.
"I received notification from the Kansas City Health Department on the 25th of March that a student had tested positive for COVID-19," said Austin. "I immediately notified the administration that we had a positive test."
After learning of the positive test, the university followed the health department's protocol and assisted health officials in reaching out to individuals who may have been exposed to the virus via contact with the infected student, Lundgren said.
Lundgren also noted that, in any case, the university would not move forward with information regarding a positive case of COVID-19 without confirmation from the health department.
"If an individual or their immediate family would come forward and tell UMKC they have COVID-19, we either ask them to contact their local health department and have the health authorities officially verify and then notify us, or ask the individual for permission for us to seek confirmation through the health department," Lundgren said.
Additionally, Lundgren denied allegations that a faculty member had forced the student to come to campus on March 16.
"The mother has portrayed the student as being coerced to come to campus for a meeting with a faculty member on March 16. That is another inaccurate statement," Lundgren wrote in a letter to faculty, staff and students of the School of Law on April 6. "The student contacted the faculty member and asked for a meeting. They mutually settled on a meeting on campus. Keep in mind that on March 16, UMKC had just moved to online classes and faculty were still working on campus, with guidance to engage in CDC-recommended social distancing practices. President Choi's stay-at-home order for campus did not begin until March 23."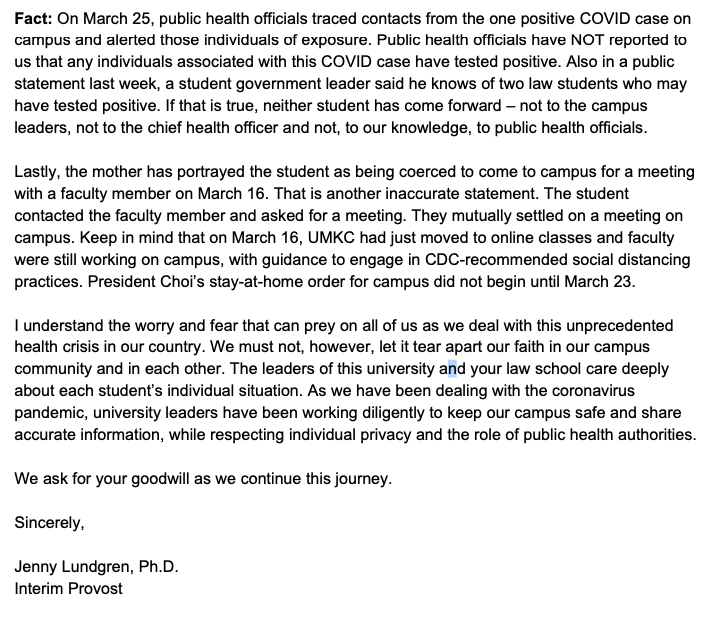 Lundgren sent the letter to the School of Law after UMKC's Student Government Association expressed concern about the allegations made in The Star's article and the lack of information in the March 25 notice.
In a statement released via Twitter on April 1, leaders of SGA wrote of their disappointment upon hearing of the allegations raised by the student's mother. SGA urged the university to be forthcoming with all relevant, non-identifying information regarding the student who tested positive.
Lundgren told UNews the university had to comply with the rules of both HIPAA and FERPA, and it felt uncomfortable sharing specific information that could have made the infected student identifiable.
"We were not in a position where we wanted to or where we could share specific information about this student," said Lundgren. "We were trying to balance protecting this student's right to privacy with the protocol that the health department officials were having us implement."
In the wake of this controversy, UMKC administrators met remotely with leaders of SGA and students in the Law School in attempts to ease some of the fear and anger regarding the situation.
On April 9, SGA president Justice Horn released a statement to UNews, in which he again criticized the university for not disclosing the law student's academic unit.
"The only thing students wanted was clarity of information at the time the positive case was made public," wrote Horn.
"After asking point blank if the Health Department advised against releasing the academic unit of the student, the Interim Provost refused to give a yes or no answer," Horn said. "I personally feel that this administration continues to put their reputation before the health and safety of students. Administration potentially imperiled the health and safety of 300-plus law students—and the families they went home to—to protect themselves from unlikely litigation. That is simply shameful."
"I am formally calling for upper administration to apologize to the entire UMKC student body," Horn said.