The Roos volleyball team began with a blazing 9-3 record in its non-conference schedule. 
  The team continued its dominance in the first four games of Summit League Conference play. After beating the Omaha Mavericks and South Dakota State Jackrabbits in five sets, the South Dakota Coyotes in four sets, and dominating the Oral Roberts Golden Eagles in a sweep, the Roos had sole possession of first place in the Summit League.
  However, the team's sheer authority would come to a close on Saturday, Oct. 7 in Denver, CO. There, the Roos faced off against the Denver Pioneers, who were 4-1 in conference play going into the match.
  Kansas City would take sets one and three in close battles, but were beaten in set two. They played close in set four, but ultimately submitted. In set five, the Roos couldn't finish their comeback and ultimately lost the match.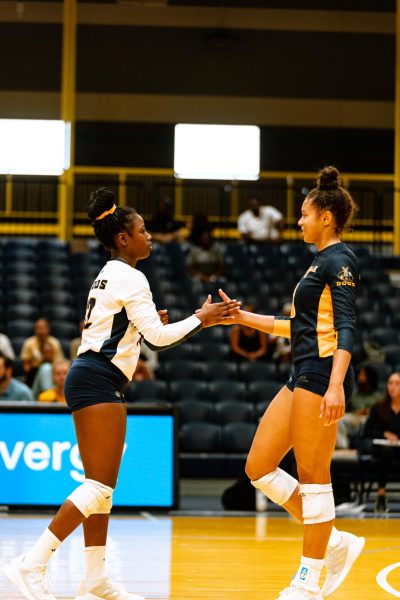 That loss puts the Roos at 13-4 on the season, 4-1 in conference play and third place in the Summit League. The team is still in a very good position to finish the season in the top six and make the 2023 Summit League Volleyball Championship tournament. 
  Overall, the Roos have the most points on the season and second most points per game in the Summit League. The team has the most kills and most total attacks in the conference, as well as most blocks, digs and aces. 
  Junior libero Leah Green earned Summit League defensive player of the week twice in a row, on Sept. 26 and Oct. 3. She also earned Summit League Female Peak Performer of the Month for September.

  These accolades come from her outstanding defensive performances, but also her serving abilities. Green has 30 service aces, which ties her for 37th in the nation. With 341 digs, she's 20th in the nation, 29th in digs per set. 
  If Green continues at the pace she's at with aces, she will tie for fourth in Roos history at 49. She would place third all time in digs with 562 should she continue at a constant pace. 
  Senior outside hitter Odyssey Warren is still on fire. She ranks 8th in the nation in total attacks (776) and 16th in attacks per set (11.25). She's on pace to break her own record of 10.85 attacks per set and to place fourth in Roos history. If she continues on this trend, she will break her own season record of attacks and place second in Roos history with 1,278.
  The Roos continue their season on Thursday at 7 p.m. against the 10-11 (2-3) North Dakota Fighting Hawks. All home matches can be streamed on the Summit League Network via Midco Sports. Tickets can be purchased here.