UM System removes Diversity and Inclusion Statements from Job Postings
The change is upsetting some in the UMKC community
  The University of Missouri (UM) System removed diversity, equity and inclusion (DEI) statements from its hiring process. However, UMKC's Statement of Values mentions all three. 
  The removal of DEI statements coincides with an amendment introduced by Republican lawmakers earlier this March that would prevent public universities from asking questions about diversity in their hiring process.  
  However, UM System President Mun Choi claimed in a faculty newsletter the change was not motivated by potential legislation, but in an effort to handle "inconsistencies" with "diversity statements in job postings." The newsletter states the UM System "remains dedicated to creating an environment free from discrimination" and a "values commitment" will be posted in its place. 
  The faculty newsletter also said media reports have questioned the use of DEI for hiring purposes and if DEI statements serve as "loyalty oaths or litmus tests." According to the newsletter, UM System wants to remove this impression from the hiring application. 
  Dr. John Barton said he remembers the diversity statements when he was hired on campus in 2005. He discusses diversity, discrimination and race regularly in his African American Literature course.
  "It's possible, of course, to have a discrimination-free environment without university-sanctioned DEI statements, but it's much more probable when those statements are in place," said Barton. 
  Diversity, equity and inclusion are all key values in UMKC's Statement of Values, but the UM System's decision to scale back on diversity in their hiring process has some UMKC students concerned about how it may impact their campus.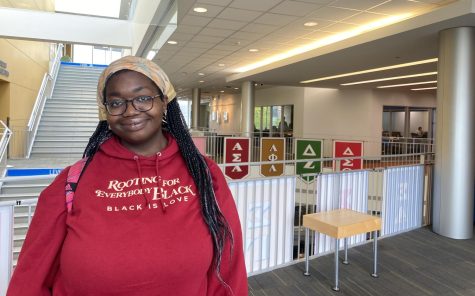 Sophomore Kyra Afolabi said she feels supported as a black woman and first-generation student at UMKC. However, despite positive experiences of being an RA and PAL mentor, Afolabi said she began considering transferring to a more inclusive college system after the DEI statement removal. 
  "It doesn't make sense to me," Afolabi said. "Taking out diversity, equity and inclusivity is removing everybody who's not in the majority." 
  Junior Gabe Kribbs is the Outreach and Diversity Coordinator of the Sexuality and Gender Alliance Council (SAGA Council). Kribbs said he is worried about the DEI statement removal and its effect on UMKC's faculty and student organizations. 
  He stated his organic chemistry professor is "adamant" about sharing the SAGA Council events in their Canvas page. Kribbs believes professors do a "sufficient job" supporting students and diversity organizations but is not sure what the future will hold. 
  "When I talk to my friends from other schools, [safe spaces are] the main thing I brag about," Kribbs said. "At bare minimum, if there's not promotion of diversity in classes, at least there will be organizations on campus." 
  UM System schools have varying mission statements. Mizzou is the only campus to not include one of the three DEI terms in their Mission and Values page. Missouri S&T, UMSL and UMKC list inclusion or diversity at least once. 
  Roo News did not receive additional statements from UMKC regarding the change when requested. For more information about the job postings and larger state impact, visit KCUR, The Pitch and the Kansas City Star.