Concrete Canoe Club Beats the Competition
For the second year in a row, UMKC civil engineers win against a dozen universities
  UMKC civil engineers achieved first place at the regional Concrete Canoe competition last weekend in Manhattan, Kansas, giving the team a two-year winning streak. 
  Their canoe will now compete nationally in Platteville, Wisconsin, on June 10. 
  "It was exhilarating," said Cade Ferguson, Concrete Canoe's next president. "We put a lot of work in so I knew we weren't gonna do terrible, but I didn't expect to win. It's really nice seeing all our work pay off."
  Universities in and around Missouri compete in presentations, races, final products and technical reports with only one team moving on to nationals.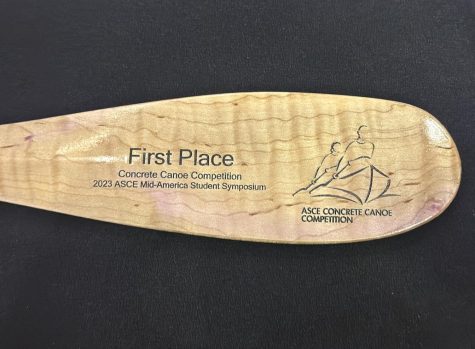 UMKC won first place in racing, second place in presentation and technical report and third place in the final product. 
  "They announce what each team scores in each category before announcing the overall winner," said Sean Purdue, leader of the concrete mix team. "I was sitting there thinking we'd gotten second or third. So I was really surprised when we got first."
  Even with this first-place achievement, the team is still looking for ways to improve. 
  Every year, the concrete mix and canoe design evolves past previous mistakes which leads to a superior final product.
  "Last year was figuring out what we could do with what we had, and this year was a refinement of that," said Nathan Unruh, Concrete Canoe's current president. "It will probably look like that for a few years, [us] slowly figuring out what we can do better and better."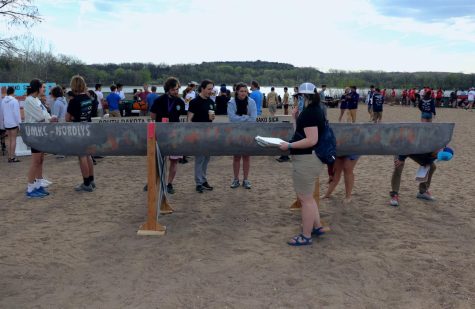 Corrections from the previous year help, but the team must work together. Each aspect of the construction is split into focused groups. This ensures the canoe can float when fully submerged in water, hold up to four rowers and has an aesthetic design.
  Emma Bjornstad, a civil engineering student from Norway, led the design team and was the inspiration for the Norwegian translation of 'Northern Lights' on the side of the canoe. She said she is looking forward to traveling to nationals. 
  "I'm mostly excited about seeing all the other great teams and learning a lot," Bjornstad said. "Hopefully we can win some more races and overall build more team spirit for next year!"
  A week before heading to Manhattan, the Concrete Canoe team unveiled the canoe to their sponsors and the dean of the School of Science and Engineering. 
  Concrete Canoe is a club open to all UMKC students and can be joined on RooGroups.