UMKC engineers unveil their year-long projects before competition
Their creations showcase the ability of UMKC's engineers
  For a full year, UMKC students have been building canoes, buggies, bridges and airplanes to rival other universities.
  UMKC engineering clubs presented these projects on April 7 to club sponsors and Kevin Truman, dean of the School of Science and Engineering.  
  "These teams have been working hard seven days a week," Truman said. "We want them to build high-quality products that are reflective of the real world, have fun doing it, [and] learn a lot."
  Each project comes with unique challenges, but all have a deadline.

  Concrete Canoe Club had to formulate a light yet sturdy concrete mix and incorporate a theme into its design. This year's aesthetic is based on the Northern Lights and plan to go to a regional competition this weekend.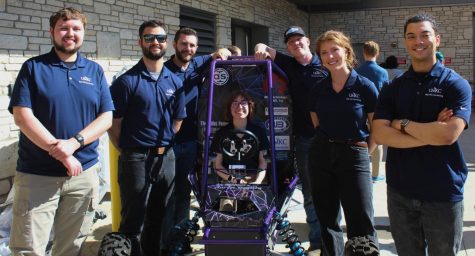 "Group projects in class [are] stereotypically like one person does all the work, but in Concrete Canoe that can't happen," said Nathan Unruh, the president of Concrete Canoe. "It's more like a job where you have people doing such different things for one project."
  While the canoe needs molding and mixes, the Baja Racing team uses welding to incorporate car parts into their custom-designed buggy. They will head to their competition the weekend before finals.
  Most of the members in these clubs are mechanical or civil engineers, but all students can participate. In fact, the next president of Baja, Mya Thomas, is a sophomore studying geology and volcanoes.
  "I love racing go-karts, so I was very excited to get involved in Baja," Thomas said. "It was intimidating at first because I'm not an engineering student, but there's a business side of competition. So I quickly got involved in marketing and social media."
  While Baja continues to show every year, the Steel Bridge team reestablished this semester. Without the foundation usually set the semesters before, this club is learning as they build.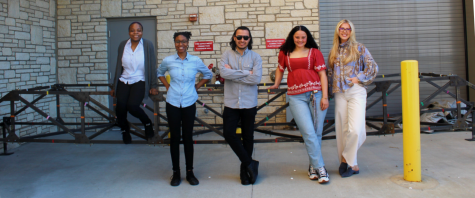 "My biggest lesson this year was that sometimes it looks like it's gonna fit together great on paper, but when you actually construct it, it doesn't," said Cierra Robinson, the president of Steel Bridge. "Constructing and design are two different things, and engineers need to understand both."
  Even though Design, Build, Fly formed a week before their project proposals were due, they plan to travel to compete on April 13.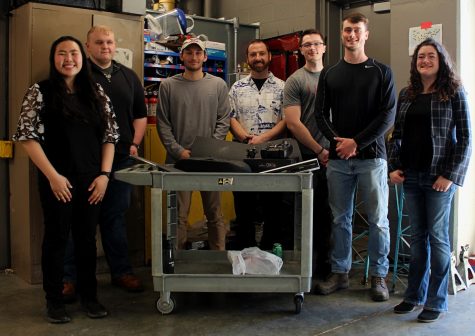 Club President Katie Butler said her group plans to make a lightweight, aerodynamic model plane that is black and yellow. Their radio-controlled aircraft will be up against aerospace engineers' creations from all over the nation.
 The Baja Racing team, Concrete Canoe Club, Steel Bridge Team and Design, Build, Fly are open to all students, and their meeting times can be found on RooGroups.