The Ultimate AFC Championship Experience
How one game at the so called "Burrowhead" Stadium made for a cherished lifelong memory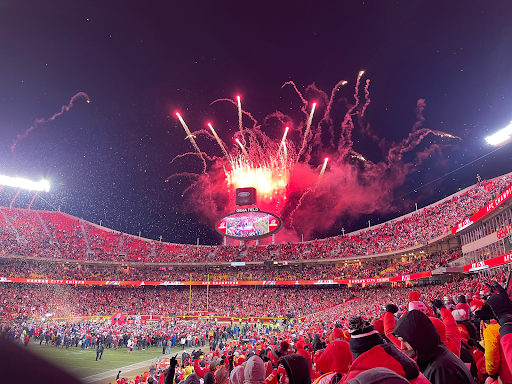 Jackson Ogden, RooTV Co-Executive Producer, Staff Writer
February 2, 2023
  I've been a diehard Kansas City Chiefs fan for as long as I can remember, from traveling to Indianapolis in 2013 to watch them lose in the playoffs, to watching them win it all at Super Bowl LIV in 2020. 
  I thought I had lived it all, but watching the Chiefs win the AFC Championship game in person this past Sunday was easily the greatest moment of my life. 
  Driving to the stadium around 12:30 p.m. and navigating the maze that was finding a parking spot, me and my good friend from elementary school, Stevie, got situated, sat on our lawn chairs, and enjoyed some drinks while we waited for kickoff.  
  In typical Midwestern fashion, Chiefs fans' invited us over to their tailgate to eat and watch the underwhelming NFC Championship match. The feeling around that parking lot was intense, the entire fanbase showed confidence through their rowdy music and various tailgate games, while also worried about reliving the same painful loss as the previous season. 
  As I entered the stadium, the combination of freezing temperatures and nerves began to set in. Once the game kicked off the atmosphere was electric, more than 73,000 fans were screaming at levels that made Arrowhead's famous 142.2- decibel sounds record seem quiet.  
  Just like last season, this game was a back-and-forth battle that had me and every other fan stressed out from start to finish. When the Chiefs got the ball back with half a minute to play, I just knew superstar quarterback Patrick Mahomes and company were going to find a way to pull out a win.  
  As Harrison Butker came out to attempt a field goal that would send the Chiefs to their third Super Bowl in five seasons, I locked arms with the fans around. We prayed to the football Gods for the kick to make it through. Although I could barely stomach watching, Butker's kick sailed right past our seats and through the uprights. 
  There's something unique about sports, it brings complete strangers together that as if they are family. In a way it is a family, being with Chiefs kingdom as the confetti fell and the players celebrated was a special moment that I'll cherish for the rest of my life.