Grand Coffee Company Brings Italian Values to the KC Coffee Scene
  The owner of Grand Coffee Company, Salvatore Silvio, crafts a cannoli as I take a seat at the coffee bar. 
  The large windows and contemporary decor remind me I'm in the city, but looking more closely, I spotted an old black and white photo of a family hanging next to the Victrola record player. 
  Silvio hands me the sugar-coated cannoli as he describes who is in the image. Silvio's great grandfather – mom's side – cuts Rocky Marciano's hair while his grandfather – dad's side – stands by. Silvio's great-uncle is behind the barber shop chair. The family's connection didn't start overnight. It goes back generations.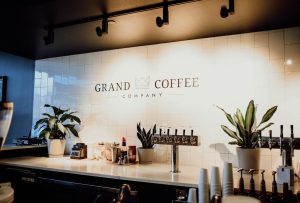 Grand Coffee Company captures a Kansas City feel by combining modern aesthetics with a rich history. Silvio describes the coffee shop's Italian background, highlighting the value of family and his desire to feature it in the business.
  Silvio informs me about the family's food. An Italian cookie recipe is written in his grandmother's handwriting on a card, and he holds those tokens of family close to his heart.
  "It's kind of what I know and the morals I grew up on," Silvio said. "And I actually do think it's [family] one of the most important things in your life." 
  Aunts, uncles, and even cousins contribute to the business. Whether it's the skills of the restaurant industry or learning how to bake, Silvio is always learning from others.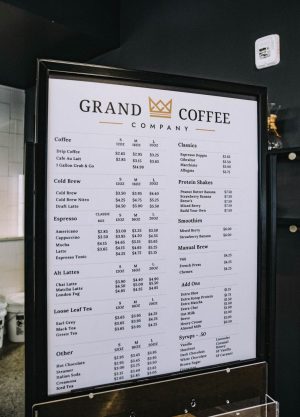 Silvio wants to capture tradition within the coffee shop. The "Classics" menu contains coffee with an Italian history, such as the macchiato and affogato. Pastries like cannolis and biscottis are also featured in the menu – and very delicious. Food is an important part of Silvio's life. 
  "Any family event that we go to, everyone checks in and cooks," Silvio said. "But at the end of the day, anytime there's good food, [it] groups people together."
  The songs "Piano Man" and "American Pie" playing on the Victrola make the shop feel like home. From song choice to food selection, Silvio sprinkles his family throughout Grand Coffee Company. 
  Establishing customer connection beyond business interactions is what Silvio hopes to achieve at his coffee shop. He chats with customers at the coffee bar, taking the time to slow down and be present. Additionally, he wants employees to feel this same welcomeness.
  "Usually it's the first person you see when starting your day," Silvio said. "[A] good atmosphere" among both staff and customers is important to the shop's authenticity. 
  Grand Coffee Company is located at 2345 Grand Blvd, just 10 minutes from campus. Stay updated on the spot through their Instagram. They are open Monday through Friday from 6 a.m. to 3 p.m. or customers can order online through their ​website.