Oak Street, Johnson Halls Face Water Damage From Winter Break Pipe Bursts
The city's record-breaking cold triggered UMKC dormitories' water pipes to break, causing water damages and displacement of residents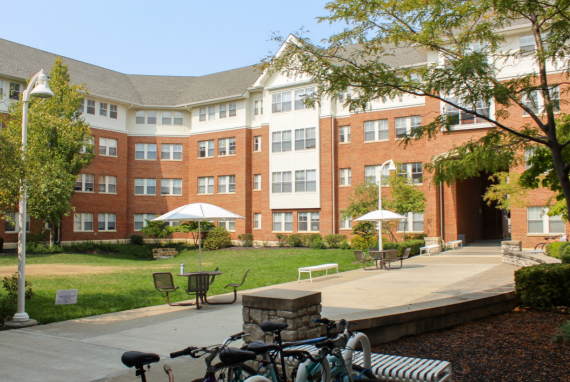 LAST UPDATE 2/2
  Two water pipes froze and broke on Dec. 24 at the Oak Street residential hall. The next day, a fire-suppression sprinkler pipe broke at the Johnson location. 
  The flood waters hit residential rooms and hallways at both student housing buildings. A storeroom in Oak Street Hall and several study rooms in Johnson Hall also experienced water damage.
  Johnson Hall's first-floor RA Dalton Hartsfield said he learned of the floods after returning back to work at Johnson on New Year's Eve. A couple days later, he received an official email from UMKC addressing the matter.
  "Obviously, it's not an ideal situation," Hartsfield, a junior music composition and music theory major, said. "It wasn't as bad for [my floor]. There were some more significant concerns upstairs.
  The four-story building's pipe broke on its top floor. However, Hartsfield said because of the water trickling down, the third and second floors received most of the water damage.
  Quickly following each incident, the university shut off both buildings' water and later hired specialists to clean and dry out the spaces.
  Expecting a record-breaking cold during the winter break, the UMKC facilities staff took preemptive measures by monitoring temperatures and water flow and setting thermostats to 72 degrees. Those precautions and the previously installed upgrades reduced the amount of damage sustained, said UMKC Director of Strategic Communications Stacy Downs.
  Hartsfield said several student residents tentatively relocated to unaffected dorm rooms in Johnson, Oak Street and Hospital Hill while they wait for further repairs. He said four out of the 20 rooms on his floor had to completely move out. 
  This incident marks one of several floods at UMKC's residential halls. The buildings have experienced five additional floods in the past eight years. The university displaced nearly 150 Oak Street residents last year due to a pipe burst. 
  "Each situation is a little different," Downs said. "In this case, the unprecedented low temperatures in our metro area caused equipment to fail."
  Despite the precautionary actions, drywall and flooring need replacing for both residence halls. Downs said repairs are underway in both halls, and the expected completion date is May 1.
  Hartsfield, who has lived in Johnson Hall for the past three years, said he feels grateful for the university's residential life team as he and his fellow residents navigate this "hectic" situation.
  "Obviously, people want answers," he said. "I would say that the people at ResLife are working hard… trying to take care of all this stuff. They're working to find the answers, and they're doing [their] best."