A "Muse-ical" of wonderfully ridiculous proportions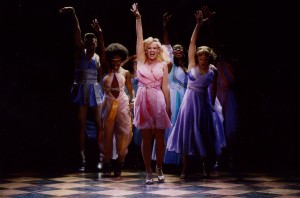 Throughout the ages, muses have inspired mankind to make some of its finest art.
Starlight Theatre's production of the musical "Xanadu" is replete with a muse who is sure to amuse.
The plot revolves around a beautiful, blonde Ancient Greek muse leader named Clio (played by Elizabeth Stanley), who comes to Venice Beach, Calif. in the 1980s from Mount Olympus to inspire a struggling artist named Sonny Malone (played by Darren Ritchie).
She hopes to inspire him to create the most extraordinary piece of art in the history of mankind, and earn her the mysterious gift of Xanadu from Zeus, "a gift so great, no one knows what it is."
Stanley does a great job as Clio. She's charming, possesses wonderful comedic timing, an even better voice and gracefully maneuvers throughout the entire show with the precarious burden of roller skates.
Ritchie's portrayal of Sonny was cloudy with a high chance of blasé. He has a wonderful voice, and there were no huge mistakes on his part. But there wasn't anything notably remarkable either.
He wasn't the loveable, goofy doofus his character was supposed to be. In fact, he was slightly unlikeable, and you didn't find yourself rooting for him to get the girl in the end.
Like all Grecian muses, Clio has to disguise herself from her artist, because if it was found out an artist wasn't the sole creator of his art, "How could there be an artist's ego?"
She creates the impenetrable disguise of changing her name to Kira, donning roller skates and legwarmers, and contriving an Australian accent.
Clio arrives on earth just in time to save Sonny from killing himself because he thinks he's an artist "who tried and failed."
She cheers him up with the song "Magic," and in a flash of genius, inspires him to have the infallible idea of opening a roller skating disco.
Clio is the leader of her nine sister muses, and while she's helping Sonny, two of her older and exceedingly less-attractive sisters, Melpomene and Calliope (Played by Alix Corey and Annie Golden), become jealous of Clio's quest for Xanadu.
They decide to plot against her by putting a spell on her to compel her to break one of the two cardinal muse rules: never create art and never fall in love with a mortal, the penalty of which is death and damnation to the underworld.
The dynamic duo is reminiscent of the ugly stepsisters in "Cinderella."
They excel in "Evil Woman," their number that extols their despicable virtues.
Sonny finds an old theatre he thinks is the perfect place to open the disco, so he beseeches the hardened and greedy businessman Danny Maguire (played by the venerable Kansas City native, Kip Niven) to give him the building for free.
The businessman laughs in his face until Clio shows up and charms him into giving Sonny the building and making him a business partner, because she reminds him of a muse who artistically inspired him 40 years ago when he was a young man.
The best number of the show, "Whenever You're Away from Me" ensues with a harmonious mash-up of '30s swing and '80s rock.
It includes an absolutely spectacular tap number by Curtis Holbrook in a flashback as young Danny Maguire, where he jumps atop a desk and deservedly steals the stage.
In a rush of limited magnanimity, Danny gives Sonny just one day to turn the dilapidated building into a groovy roller disco hotspot. Sonny refuses to despair, stating, "Just because it's impossible doesn't mean I'm not gonna do it."
As he begins designing his plans for the theatre, he compels Clio to draw her ideas for what the theatre should look like, an exhortation that of course causes her to break one of the muse laws.
As the pair sits close together, drawing and laughing, Clio's two evil sisters sneak behind them and cast a love spell and sing the musical highlight "Strange Magic," which causes the pair's bodies to contort each time the evil sisters project their "strange magic" into their bodies.
Clio remarks, "I've got a wrong feeling, not unlike cognac!"
But the spell is complete and the duo has fully fallen in love.
Despite the evil sisters' malevolent meddling, somehow the rest of Clio's sisters show up and help the duo fix up the theatre so wonderfully while singing the fun-spirited song "All Over the World," that Danny has no choice but to let him use the building.
The musical takes a turn for the dramatic when suddenly Zeus' messenger, Hermes(played by Julius Thomas III), arrives and proclaims that Zeus knows of all Clio's indiscretions, and has summoned her to return to Mount Olympus to receive her punishment.
As Clio prepares to leave, Sonny begs her to stay with the showstopper "Don't Walk Away," a ballad with a range as high as Mount Olympus and a stunning a capella accompaniment from the chorus.
Clio ends up flying to Mount Olympus on a giant winged horse descending from the curtain top.
When she arrives, Zeus (also played by Kip Niven) obstinately refuses to rescind his decree until implored by his attending goddesses with the song "Have You Never Been Mellow?"
He decides he should forgive and realizes that despite the spell cast on the pair, the love Clio has with the mortal is indeed true love.
"You have twisted my omnipotent arm," Zeus says and declares that Clio has found Xanadu, because it is "Loving another person and creating art!"
He then sentences her to become a mortal, and to forever talk with an Australian accent.
The show ended with the infectiously-catchy title song, "Xanadu," and the theatre transformed into a roller disco as dozens of disco balls descended from the ceiling, skaters rolled out onto the stage doing tricks and wearing light-up skates, and cast members ran out into the audience singing, dancing and clapping their hands.
"Xanadu" is a fun, light-hearted reprieve from reality. Epiphanous theatre it is not, but entertaining it is. It has its moments. They're not spectacular, but they're rather good.
tsheffield@unews.com