The chatter and excitement on the top floor of the Student Union surged on Thursday, Nov. 10, as dressed-up guests sipped wine, flipped through glossy books available for sale and eagerly tossed their names into a piling raffle. As students, professors and community members circulated through the transformed room, they were likely to bump into successful local writers like Whitney Terrell and Michelle Boisseau, along with Pulitzer Prize-winning poet Tracy K. Smith.
The Writers for Readers dinner and fundraiser quickly established itself as a celebration amidst a week of election anger and chaos. Ticket prices and on-site donations supported the partnership between the UMKC Creative Writing MFA program and the organization Literacy KC, which aims to foster adult literacy and expression through imaginative story-telling.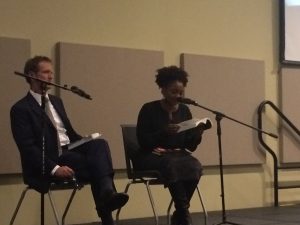 "People who are learning to read will find a lot of pleasure and inspiration if they are able to tell their own stories," said introductory speaker Provost Bichelmeyer.
Literacy KC affirms this vision and has made it the core focus of their program. Last year, they hired Creative Writing MFA student Angela Lutz to teach and inspire their students.
"I've learned really quickly that they have incredible stories to tell," Lutz said.
Specifically, Lutz reflected on working with a retired grandmother who yearned to read with her grandchildren. She was a deeply religious woman who finally had the ability to read the Bible. Lutz also recalled working with a Columbian man who urged her to read Gabriel García Márquez's One Hundred Years of Solitude.
"It's on my nightstand right now," Lutz laughed, a testament to the strong relationships literacy can create.
One of the most impactful moments of the night unfolded when Lutz's students shared their new-found voices with the crowd.
The stories of students April and William expressed the overwhelming, uniquely individual grief of a parent passing away. Another learner, Kerrie, spoke openly about her life with Dissociative Disorder and PTSD, reading a story written in the many perspectives of her split personalities.
For all of these students, a focus on the future stood out as an evident theme. Kerrie dreams of becoming a therapist to help kids struggling with the long-stemming effects of abuse.
"Literacy KC is unlocking a block that I created," a student named John read, "by telling myself that I could not [succeed]."
The poignancy and energy of the night only grew when award-winning poet Tracy K. Smith took the stage with local writer and UMKC professor Whitney Terrell.
Before transitioning to his role as Smith's interviewer, Terrell underlined the need for the Writer for Readers event, as well as writing's overall importance.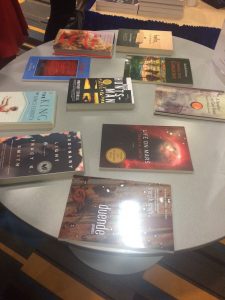 "You don't get to talk about the inside of yourself if you can't write and can't find the language," Terrell said. "It's hard work. [Tonight] is not hard work—it is joy."
Terrell asked Smith about navigating her emotions and the complexity of others through her writing. Specifically, the conversation centered on Smith's recently released memoir, Ordinary Light.
In this memoir, Smith writes about her religious upbringing in Alabama, her own shifting spirituality, and her complicated relationships with her parents. Smith explained that she tried to adopt the voice of her late mother as a method of imagining her thought processes and rationale.
"The inner-life of yourself is deep and nebulous and strange," Smith said, "let alone the inner-life of someone else."
Smith also talked about her writing journey and its most pivotal influences, events and challenges. Shifting from poetry—her most common, career-long genre—to prose as she wrote her memoir stood out as one of the most strange and difficult tasks. Smith also emphasized the significant theme of race in both her writing and reading.
She recalled discovering the long, intense history of racism through books.
"It was amazing to me that I could stay up all night reading the things I was scared for my parents to tell me," Smith reminisced.
Smith ended her talk by focusing on literature's power to inspire and unite diverse audiences. "How amazing is it when the divides that [readers] are crossing are the ones that politics tells us are uncrossable," Smith remarked.
Smith urged her audience to not see literature and the world around them as two separate spheres, but instead to utilize the empathy and imagination found through literature within their daily lives. This reinforced Literacy KC's message and persevering hope.
"Tonight we got to hear a lot of different stories," Literacy KC director Gilliam Helm said in her closing speech, "and that's what this program is about."
As the night drew to a close, volunteers raffled off books, and Smith began signing copies of her work. Yet even attendees who did not pick up Smith's poetry collections or memoir surely returned home with something: a renewed appreciation for literacy and motivation to foster it in their community.
 klewis@unews.com