Civility in politics—or, rather, lack thereof—has made itself most apparent in the light of the recent election process. The lack of civility in politics is made clear by the harsh political ads which make use of nearly every possible second to slander the opposition. The unkind and heated arguments held over social media platforms. Also, specific to this election, Donald Trump and Hillary Clinton's inability to shake hands with one another before the second presidential debate.
Politics' incivility has brought forth a series of questions. Are American Politics more uncivil today than they have been in the past? What is causing the incivility in U.S. government? Does any type of civility still exist in U.S. government? Is there hope to bring civility back into American Politics? An event held the evening of Thursday, October 13, 2016 focused on these exact questions with a discussion titled Why Can't We Be Friends: Civility and Politics. The event, held by American Public Square in partnership with KCUR 89.3 at the Harry S. Truman Library and Museum, was a part of a Conversation at the Square, a four-part series. American Public Square is a nonprofit bipartisan organization operated under UMKC and focuses on bringing non like-minded people together in a civil forum. Thursday night's event included conversation on civility between former Governor James Holley Douglas of Vermont, former Governor David Ronald Musgrove of Mississippi, and former U.S. Ambassador to Portugal, Allan Katz, who is also a Professor of Civil Affairs and Political Science at UMKC and the founder of American Public Square. The conversation was moderated by Brian Ellison of KCUR.
The event was attended by a number of citizens of the metro area who want to learn as much as possible about the upcoming election and gain new perspective. "I'm very interested in learning different perspectives that contribute to this election," said one attendee, Larry Lavoie. "This is one that has really strained at emphasizing persuasion. I look forward to these events." The topic of civility had been on the agenda for months, and it could not have been scheduled for a better time. "It was not an accident to have the conversation now, a few weeks before the election," said Ellison. "I don't think any of us could have imagined just how each and every day would make this conversation more relevant. I don't think we could have imagined that the wheels would come off the wagon."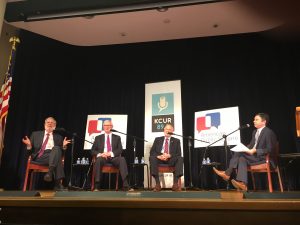 One of the evening's discussions zoned in on the cause of incivility in American politics and why incivility is surviving, possibly due to political ads, the mainstream media and social networking. "The reason those ads are run is because they work," said Katz. "We have to figure out how to push back as a society. They're all a bunch of crooks, they're all a bunch of losers, and we don't really care. We drift towards Republican or Democrat and figure it doesn't really matter." Katz also gave insight into how he feels the mainstream media and social networking have had an effect on incivility in politics. "The media has decided that they would rather have high ratings than to take on any civic responsibility," said Katz. "Rarely do you have a civil conversation back and forth on social media with someone you disagree. [You're] usually saying something relatively unpleasant." Incivility is not new to American politics, but in an election as intense as this one, many feel it is the worst election in the history of the United States. Part of the conversation focused on whether or not we have really hit a new low and focused on how modern times have altered civility. "There were certainly a lot of uncivil comments tossed around in presidential campaigns in the past," said Douglas. "The Jeffersonians called John Adams a hermaphrodite. Later on Rutherford Hayes was accused of shooting his own mother and stealing pension funds from Union soldiers. And, of course, the famous accusation that proved to be true— that Grover Cleveland fathered a child out of wedlock ." "I think the real difference is the media," said Douglas. "The fact that things can be tweeted and retweeted, and broadcast 24/7 on news stations. The access to these allegations makes it seem a lot worse than it used to be." Musgrove voiced a similar opinion as Douglas. "I think the tone and tenure of campaigns has reached a new low in modern times," said Musgrove, "Like the last 50 years from the Nixon/Kennedy debate until now. We are dealing with issues today that we didn't deal with back then, and so is society. You see a presidential campaign simply reflecting society. Bill Clinton once said, 'One of the most segregated places that we have is the place we get our news,' which to me, creates a really bad atmosphere." While there is a lot of incivility occurring throughout American politics, Thursday night's discussion made it a point to highlight some of the positive civility that members of the panel had experienced themselves. Both former governors Douglas and Musgrove were unique in the way that they both served states whose primary political parties did not align with their own. Governor Douglas was a Republican in a primarily Democratic state and believes civility is the reason it worked out so smoothly.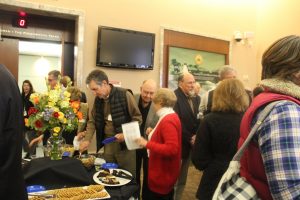 "Vermont lends itself better to civil discourse and politics than perhaps a broader scale," said Douglas. "It's retail. People get to know their elected officials and candidates. I think it's the personal connections that people establish that allow us to get over some of the hurdles that other people face." Governor Musgrove was a Democrat in the primarily Republican state of Mississippi. He recalled a personal experience involving civility in his time there. "I remember once when I was in the senate, we took a vote over whether or not we should have a lottery," said Musgrove. "There was a republican constituent who wrote a three-paged, single-spaced letter about how crazy I was—this man was very smart. I responded with a five-paged, single-spaced letter, he then wrote a seven-paged, single-spaced letter, and I concluded the conversation with a nine-paged, single-spaced letter. He called me up and said, 'I want you to come see me.' I did and he said, 'I'm going to start supporting you. At least you understand why you took the position you took.'" The evening's conversation concluded with signs of hope for civility to return to national politics. "There are a lot of organizations like American Public Square going after the same things, trying to make things more civil," said Katz. "It's a part of a movement that says a lot about how people are unhappy with the incivility. You're just frustrated with all this stuff, you don't really have anywhere to go. So that's why we have organizations like ours and a lot of other places trying to create that space for people, so that politicians can notice that something is going on." Musgrove has hopes for leadership to recognize the issues surrounding the high levels of incivility. "I would hope that the leadership will say that the country is going to turn on us if we don't do something," said Musgrove. "If the leadership in Washington would come up with items they think are major issues for the country, that they don't resolve in a bipartisan matter, it's going to be bad for the country." American Public Square will be hosting three more conversations similar to the one that took place on Thursday night in the Conversation on the Square series. More information about their events can be found at americanpublicsquare.org.
epark@unews.com