Of the estimated 7 million Muslims living in the United States, 30,000 reside in the Greater Kansas City area.
American Public Square hosted the panel "Muslim in Metro" last Monday in Pierson Auditorium, during which panelists explored the realities of Islam in America.
The panelists included UMKC Alum Mahnaz Shabbir, President of Shabbir Advisors and member of the Kansas Interfaith Council; Republican Kansas Representative Dick Jones; Jack Cashill, Executive Editor of Ingram's Magazine; Barry Grissom, a U.S. Attorney in the District of Kansas; and Zoya Kahn, Outreach Coordinator of Muslim Youth of North America and KU freshman.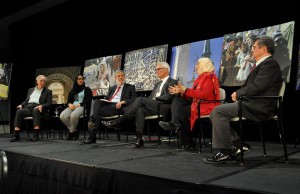 Allan Katz, Distinguished Professor of Public Affairs and Political Science, moderated the panel while KCPT Executive Producer Nick Haines acted as the "roving reporter," relaying audience questions to the panelists.
The panel began following a vegetarian meal, which was halal, meaning "lawful" in Arabic.
Katz started off the panel by asking Cashill, the author of Scarlet Letters: The Ever-Increasing Intolerance of the Cult of Liberalism about Islamaphobia.
Cashill responded by listing other prejudices: homophobia, sexism, racism xenophobia, ableism and climate-change denialism. These, along with Islamophobia, "have become the new seven deadly sins," according to Cashill.
"Of those sins, Islamophobia is the outlier," Cashill said. "Of all the others-the sexism, the racism, the classism—these people can coexist together. What happens, though, when these various people come together to hammer out a multicultural Ten Commandments? You're dealing with people who want to celebrate homosexuality, and other people, who in their most extreme forms—and this is true–ones who stone homosexuals to death. How do you find common ground? It's going to be very difficult. From the perspective of the Right, if you offend any one of these tenants, you are subject to be called racist, sexist, classist, a homophobe, et cetera."
Shabbir responded by saying that she'd like to get away from terms like "politically correct."
"That almost gives people permission to say whatever they want to say," Shabbir said. "Let's talk about Muslims living in America, because I can speak to that."
Living in the KC metro since the '80s, Shabbir observed that the country "has changed a lot since." Shabbir had four sons, married a physician and worked as a healthcare executive.
"Up until the point of 9/11, I was just like you," Shabbir said. "Living my life. Doing my work. Being a good contributor to our society. And then the events of 9/11 happened, where, all of the sudden, we were called names. Specifically my children were called names. And just like any mother, I said, 'This cannot be. I have to do something.' I was speaking for the hospital system when I was presenting projects down in Jeff City, and I needed to speak about Islam so people like [Cashill] will know more about Islam."
Shabbir recalled times when people would compliment her on being well-spoken and ask her where she was "really from," despite the fact that she was born and raised in the United States.
Jones made some comments about Syrian refugees, acknowledging that whatever the outcome of the conflict, Syria is uninhabitable and the refugees need to be "dealt with."
"One of the things we all should really consider is that there is a huge difference between bad manners and racism," Jones said. "And oftentimes, if you're wearing hijab or other costume that is unusual to the community you're in, they'll have a tendency to stare, and children have the tendency to make remarks."
Kahn said that she was "very lucky to be born and raised in Kansas." Even so, as she attends KU, she notices that she is the only Muslim and the only person of color in her some of her classes.
"It's been an interesting experience seeing people stare at me," Kahn said. "Seeing people not understanding that I can speak English, or that I have something that can add to a conversation. I have had my identity affirmed by the people around me. . .But I have also seen the political rhetoric. It's disheartening to see that lots of people don't understand that I can be American and I can be Muslim, and those are very valid identities."
Kahn then referred back to Jones calling hijab a costume, calling Jones' comment a microaggression—a small comment that often unintentionally reinforces a stereotype.
Mindy Corporon, who lost her father and son in the 2014 Jewish Community Center shooting, was among the audience for the event.
"As someone who was personally affected by a hate crime, I have made point a point to try to learn more," Corporon said, "but I see both sides. I would like to ask the Muslims first: could you allow, those that don't know to not call it a costume, or why you fast, or why you pray 5 times a day. Could you allow us more time to get to know you? And I would like to ask the non-Muslims, that when you say something that is wrong or stupid. . .but when they say back to you, 'please don't call it a costume, that's not what it is," can you take that, and learn from it, and just share back again? Because we really do have more in common, but we have to give each other time to learn."
Grissom discussed how law enforcement views terrorism irrespective of religion..
"[The Department of Justice's] number one priority is to make sure to protect our citizens from acts of terror," Grissom said. "Having said that, when I go out and talk to folks, they usually think of acts of terror like 9/11. I think about acts of terror like 9/11. I think about acts of terror like the Oklahoma City Bombing, which was the largest number of American killed by Americans during peacetime. We have lots of concerns."
At one point, the non-Muslims on the panel were asked if they had ever been to a mosque. Only Grissom raised his hand.
The next American Public Square dinner, "Our Schools: Raising the Failing Grade," will be on April 7.