Sheree Sims
Security measures in Westport are about to tighten, following a city council vote last year which privatized streets in the popular entertainment district.
Passed in December, the new ordinance will place checkpoints and weapons searches on nights when Westport sees the most business: Friday and Saturday 11 p.m. to 4 a.m. and during special events.
Security checkpoints with weapons scanners are set to appear on Pennsylvania Avenue from 40th St. to Archibald St., and on Westport Road from Broadway to Mill St.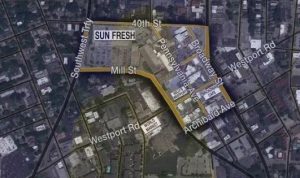 Supporters of sidewalk privatization argue these measures will decrease crime and violence in Westport by ensuring no weapons or firearms come into the popular nightlife center.
"Our family has watched the ebbs and flows of public safety concerns in Westport for decades," says Colleen Kelly, co-owner of frequented bar Kelly's Westport Inn.
Kelly is a supporter of the Westport Sidewalk Vacation, along with Kansas City business owners, such as Bill Nigro, the Westport Regional Business League and the majority of the Kansas City City Council. Supporters reference an increase in violent crime in the last few years, as well as the passing of MO Bill 656—which allows concealed carry of firearms—as justification for the recently passed ordinance.
"It does make sense, with all of that crime down there… especially with the death of that one cop," said UMKC senior Cierra Bishop.
The death that Cierra refers to occurred last summer. An off-duty police officer from Lee's Summit was shot and killed at Californos at a social event called Recovery Sundays. Following another shooting, which resulted in the death of 24-year-old Zach Pearce, the incident spurred a harder fight towards privatization of Westport streets.
Bishop added that the increased safety measures would make her more likely to visit the area during times when it is most busy.
However, there are stark opponents to the privatization ordinance as well.
The Kansas City NAACP strongly opposes the ordinance.
NAACP President Rodney E. Williams said there is a civil rights concern with the action to privatize Westport sidewalks. He worries that discrimination will come into play.
With the passing of the ordinance came a necessary negotiation: civil rights monitors must stand at the security checkpoints to ensure that equal treatment is given to those visiting Westport despite their race or ethnicity.
The city can also take back the sidewalks if any civil rights violations occur, among other reasons. However, if the city takes back the sidewalks without any reasoning, it must pay $132,784 to the Westport Community Improvement District for costs associated with security and screening measures.
Worries from the NAACP are not entirely unfounded.
Last year, a piece on diversity in Westport quoted Kansas City building owner Bill Nigro.
"I don't believe in playing hip-hop and rap music and drawing a certain crowd," Nigro shared. He has also expressed the opinion that restrictions on certain types of music can help keep violence and crime out of Westport.
This isn't the only time possibly racist comments have been made towards black people in the district. The Kansas City Star writer Aaron Randle provided various accounts of black professionals not feeling welcomed in Westport. One anecdote recounts how a local DJ was told to not play hip-hop or rap because it encourages crime.
The Kansas City Power and Light District has put similar measures in place with the aim of increasing safety. The developers have received ridicule for these very approaches, which have included dress codes to determine who to let into the venue.
Several accusations against KCP&L, including discriminatory policies for dress code, which prevent sleeveless shirts for men, chains, and baggy or sagging clothing, have resulted in legal suits.
With this history of discrimination in Kansas City's other nightlife district, opponents of privatization worry the same kind of discrimination will appear in Westport.
UMKC freshman Gloria thinks the privatization is a bad idea.
"I understand that they want people to be safe, but I don't think that they are going to gain more business," she said. "No one wants to pay $2 to $4 just to get on a sidewalk."
Gloria isn't old enough to visit Westport during the hours that the screenings will be active, but she says her friends visit Westport at its busiest hours quite often.
"Based on what my older friends have said, I think it might be harder to now go into these areas."