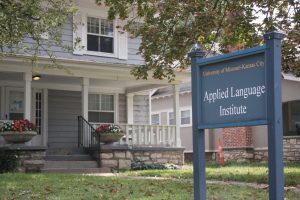 The Applied Language Institute (ALI) is a UMKC department that provides instruction for non-native English speakers.
Located at 5301 Rockhill Rd., ALI has served over 8,000 students in its 20-year history with about 400 students attending the institute every year. It's one of the most diverse communities within UMKC.
The majority of the students are international students from China or Saudi Arabia. Instruction is offered at all levels of English proficiency. Students can enter the program at any level of preparation, including those with no prior English knowledge.
The 2-year main program is an intense, full-time set of courses in grammar, writing, reading, vocabulary, speaking and listening.
They also offer courses on American pronunciation and culture and prepare students for the TOEFL test. A good TOEFL score is often a requirement for admission into regular academic programs at UMKC and most other universities.
ALI works in conjunction with the School of Graduate studies by administering the SPEAK test, a requirement for all international students seeking to become graduate teaching assistants.
Home stays are a key part of the program. They began 14 years ago through extensive networking with organizations such as People to People International, local churches and neighborhood associations.
Today, the home stay program has grown to 126 students. They provide a room for the student, breakfast and dinner. While some families just rent the room, others really embrace the student as part of the family.
"It's wonderful when the family maintains ties with the student and goes to visit them in their home country," ALI director Monica Mingucci said. "This experience breaks boundaries, broadens horizons and changes peoples' lives."
ALI's excellence has drawn the attention of local and international organizations. Companies, including DST, Stowers Institute and the Federal Reserve Bank have contracted ALI to provide English instruction and support to international employees. The Hyatt Hotel, Ameristar Casino and landscaping companies all benefit from ALI's instruction to non-native workers in their facilities.
In addition to the business community, ALI served practicum students from local and regional universities such as Park University, Avila University and the University of Central Missouri.
This summer, ALI hosted a delegation of 13 English as a Second Language (ESL) professors and instructors from the West Bank in Palestine chosen by the U.S. State Department to travel the country and learn about ESL programs.
UMKC's Applied Language Institute was identified as a center of excellence in the field by the International Visitors Council of Greater Kansas City and singled out for their visit. Delegates observed ALI instructors teaching English to the multilingual and multicultural student population. This visit was another chance to promote UMKC internationally and to showcase ALI's exceptional program.
Mingucci described ALI's unique teaching staff.
"They're not your normal mainstream Americans. When you have a desire to work with non-native English speakers, you also often have a sense of adventure and curiosity about the world, and a greater acceptance and appreciation for cultural differences," Mingucci said.
"Each one of our staff members has either studied or lived abroad," Mingucci said, "and so they personally understand the challenges our students face of learning a foreign language in a foreign country. Our teachers mirror our student population, and I believe this is a significant factor in our success. A sense of humor is key. Miscommunication happens all the time, and we find a way to have fun with it. There have been times we've had students come to our office with their three suitcases and need help finding a place to stay. Our staff is extremely dedicated.We'll stay after hours to make sure the student has a safe place to go."
"I'm proud to say we've never encountered a problem that we haven't been able to solve, and that's probably due to our sense of humor," Mengucci said. "Concepts of personal space also vary widely among cultures. Sometimes a new student will come over and sit on our desk, and we laugh together and explain how it's a little different here. We're also very comfortable asking questions, asking for help, asking for clarification. It's essential to learning."
Kate Debenedetti was an ESL teacher in Mexico before joining ALI two years ago. She explained that, as a teacher, she tries to find out why students are in her class and then adapts her teaching style based on their perspectives. Their English proficiency also varies, so she adjusts her instructional approach to their needs.
"Some students come to the program with excellent reading and writing skills but must work on their pronunciation and speech," she said. "Others speak very well but need to spend time working on their writing skills."
Debenedetti echoed Mingucci's comments about the dedication of those at ALI.
"The staff at ALI really goes out of their way to work with students outside of class and provide extra resources," she said. "They do anything and everything they can to help students excel. It's one of the things I'm most proud of about our program."
Making a difference is Debenedetti's main motivation for teaching.
"Occasionally, some students will stay in touch, and it's great to see the progress they've made. It means so much when a student comes up to me at the end of a course and says 'Thank you, I learned a lot,'" Debenedetti said. "When I read the comments from the course surveys, it's a huge compliment when students say they really got a lot out of the course. The whole motivation for my teaching is to help my students do well."
Erdem Demiroz, a student at ALI last year, has continued working as a student assistant. While he first came to UMKC through an academic exchange program, he chose to stay to pursue a Masters and PhD.
"I can definitely say that ALI had an important role in making this decision," Demiroz said. "When I first came, ALI organized a nice welcome for us and this made me feel comfortable and relaxed. Before starting to take classes, they helped us to complete our paperwork, and to solve our various problems. During the academic semester, experienced teachers of the ALI spent a great effort not only to teach English, but also to overcome challenges of living in a new culture."
Demiroz said ALI's test preparation is exceptional.
"I believe that ALI is the most effective factor [in success on these standardized tests]," Demiroz said.
Demiroz said he enjoyed the social activities organized by ALI.
"For instance, we would go to baseball games and they would organize picnics," Demiroz said. "These events help students to interact with American lifestyle. You can meet different students from all around the world, and I think this cultural diversity creates an enjoyable ambiance."
As for the courses, diversity contributes to fascinating cultural exchanges.
"One of our assignments was related to superstitions in students' cultures, and I could not believe what I heard," Demiroz said. "Almost all students brought interesting stories [to] class and this was the most broadening and enjoyable classes I have ever had. All in all, ALI is a huge family whose members are from all around the world."
ALI is looking for native English speakers for conversation groups and partnerships. These can be arranged to fit students schedules and can involve as much or as little of a commitment as you'd like. It can be as simple as going to a movie and talking about it afterward.
For more information, call the ALI office at 816-235-1233.
dbalagna@unews.com