Collaborative artists foster revolutionary ideas while thriving off each other's creativity. Jaclyn Danger, co-founder of screening collective The Cannonball Roarers, hosted a unique "secret screening" in an undisclosed location of Kansas City. Danger's mission is to screen off-the-radar films in the urban environment to provide a more enhanced viewing experience. She has teamed up with her colleague, Matt Lloyd to launch the latest screening of Wastedland 2, a film produced by Andrew H. Shirley.
"[Wastedland 2] is a sequel, but it is also a remake," said Shirley. "It's an experimental in nature, but also a narrative."
Shirley characterizes his film as an existential fantasy. The characters, graffiti vandals, are masked by profiles of their spirit animals. They pursue a mission for beer, weed and walls to paint in a post-apocalyptic world. As the film progresses, they become more infatuated with the question "what's the point?"
"[Wastedland 2] pertains to times of crisis and substance abuse in habitats of homelessness, travel, or existential drifts," Shirley said to his viewers. "The masks allowed us to reinvent the film several times."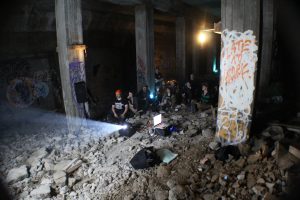 After clambering through a secret doorway and finding seat on a bulky fragment of debris, attendees observed graffiti art around them as they waited for the projector screening to begin.
The first impression of the dopey, animal-like characters struck the audience with laughter and remarks such as "Sounds dope!" or "I love to paint, I love beer!" The film progressed silently, keeping the audience intrigued with the drunken vandals activities being projected onto the cement wall in front of them. The characters relate to the audience when they propose questions such as "What are we doing here? Is this a total waste of time?" and of course, "What's the point?" These are questions everyone asks themselves at some point in their lives.
Their question is finally answered when a robotic character tells them "The fact that you asked the question, is the reason for the question itself." Failing to interpret such an ambiguous response, the spirit animals follow suspicious wires to discover the source, and also the "truth". Audiences will have to watch the movie in order to discover the enlightenment for themselves.
This was the fourth year Jaclyn Danger and Matt Lloyd ran their screening collective together. They wanted to set a home base for traveling filmmakers and their underground creations; and Wastedland 2 just happened to be premiered beneath KC soil this weekend.
     Andrew H. Shirley has a physical exhibition of his works in Oklahoma City, while also having different satellite tours in both Kansas City and New York. To learn more about Danger and The Cannonball Roarers, visit facebook.com/psychotronicfilmseries
For more info on Andrew H. Shirley and Wastedland 2, check out www.wastedland2.com

mnoordhoek@unews.com