UMKC students brought down the house at last Thursday's Future concert as the excited crowd knocked over his DJ's sound equipment.
The concert—hosted by the Office of Student Involvement and the Student Government Association—was held at 8 p.m. in Swinney.
The last time UMKC hosted an artist's concert was in 2010, when rapper Drake came to Kansas City.
What was a basketball court by day became an intimate and unique concert venue that evening.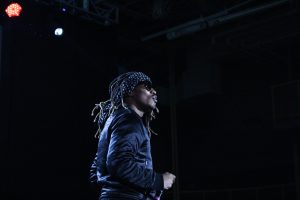 A modest soundstage occupied one end of the court, surrounded by lighting rigs. Just a few feet in front of the stage was the barrier separating the excited students and fans. A projection screen had been erected behind the stage.
Chicago-based rapper Dreezy opened for Future that evening, introduced by her own DJ.
Dreezy performed a modest 30-40 minute set accompanied by two dancers—dressed as gangsters with bandana masks and baseball bats.
Her set included a variety of her own music as well as what her DJ called a "freestyle." What this entailed was Dreezy rapping over another artist's song using a backing track. She also extensively used backing vocals throughout her performance.
During Dreezy's set the crowd seemed only half excited, with little whooping and hollering, though she and her DJ tried to induce energy into the audience.
Of note were the awkward sound levels consisting of muddied bass and muted volume in general.
In the time after Dreezy's performance the crowd had nearly doubled in sized with audience members pushing and rocking the barrier.
Future took to the stage receiving an uproarious cheer from the crowd. The beginning notes of his song "Thought it was a Drought" could be heard in the background.
Future performed for well over an hour playing songs from throughout his career. His set chronicled hits from his 2012 album Pluto, 2015's DS2 and What a Time to Be Alive, and 2016's EVOL.
Notable songs included "Turn On the Lights," "I Serve the Base," "Where Ya At," "Freak Hoe," "Low Life," "Diamonds Dancing," and "Jumpman."
Throughout his performance, Future's DJ would cut the vocals allowing the crowd to chant the lyrics. The audience's reciprocation was indicative of their tremendous excitement.
Periodically Future would ask the audience to put two fingers in the air as a sign of support for his album DS2.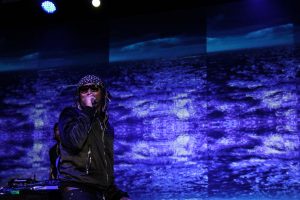 The projection screen would frequently change its image with each song—some would be accompanied by their respective music videos. Other times the screen featured various typographical versions of Future's name.
Unlike Dreezy, Future commanded a stronger stage presence. His sound levels were significantly better, with sharp trebles and deep bass.
With smoke in the air and flashing stage lights, the crowd pulsed with the rhythm of Future's music.
When the crowd caused his DJ's sound equipment to topple over, Future commented approvingly. He noted the audience's enthusiasm and energy.