In a collaboration with the University of Missouri-Kansas City, The Nelson-Atkins Museum presented an ancient Chinese musical and dance program on Friday at the Atkins Auditorium.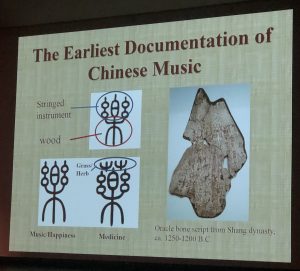 The program was inspired by the terracotta sculptures found in the current Dream of the Kings exhibition at the museum. The sculptures demonstrate how important music and dance was to Han Dynasty kings.
UMKC doctorate student, Hong Hong Gianakon, a scholar of ancient Chinese music as well as a composer and performer, opened the show by performing a short piece on the pipa (an ancient Chinese string instrument).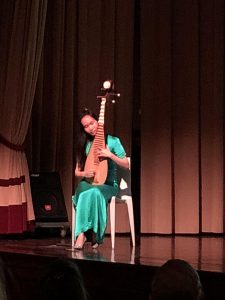 Gianakon later gave a presentation explaining the importance of the earliest Chinese music and instruments, or as she calls it, "her favorite things."
Gianakon studied ancient Chinese music back in her home country, Hong Kong. "That's when I really started to get deep into the study of ancient Chinese art, especially in music," she said.
In her presentation, she also identified how the ancient Chinese character for "music" is the same character for "happiness", and that shows how closely the two words were associated with each other. She even showed how the Chinese character for "medicine" is also the same, but with an extra symbol of two herbs added on top of the character for the word "music/happiness".
"This indicated that back then they thought music and happiness, together with herbs, makes really good medicine," said Gianakon.
The second half of the program was supposed to have professor Wang Hongyun presenting the characters of "Hang Tang Dance and the Modern Presentation". Unfortunately, she was unable to make it due to an accident, but luckily enough, her translator was able to take on her role. The presentation demonstrated different ancient Chinese dance styles and performances, with a video of it as well as a live performance by UMKC students.
The event was held to conclude the Dream of the Kings exhibition, which was open from Dec. 16, 2017 and closes next weekend.