UMKC Men's Basketball held its fifth annual "Tip-off Dinner" at downtown Kansas City's College Basketball Experience last Tuesday, introducing the championship team to the community.
Head coach of the UMKC Men's Basketball team, Kareem Richardson, expressed how important the event was to not just the men's basketball team, but to the department as a whole. Much of the donated funds are utilized across all teams and help develop elite players.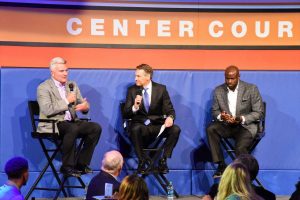 "We are Kansas City's Division-1 team," said Richardson. "To be able to come into the heart of the city and see the support means a lot for this team."
The main event hosted guest-speaker, Bruce Weber, head coach of the Kansas State Wildcats Men's Basketball team. Weber is a nationally recognized and awarded coach, having over 800 victories within his career.
"You've got to start somewhere to go somewhere," said Weber, reminiscing about his time at Southern Illinois and what it took to turn the team around.
Weber spoke to an audience of community members that included retired UMKC Chancellor Leo Morton and Interim Chancellor and Provost Barbara Bichelmeyer. Both Bichelmeyer and Morton spoke to the promise of UMKC Athletics, now and in the future.
"I consider it one of the great privileges of my life to have been able to serve this university," said Morton. "What athletics will do to help raise the profile of the university will be tremendous."
Bichelmeyer gave her thanks to the endorsers as well as the community supporters for providing the student athletes with scholarships that help make them competitive on and off the court.
"We look forward to a great season this year and we are off to a great start," said Bichelmeyer.
Director of Athletics Carla Wilson said she was proud to see the success of the Men's Basketball season last year and the support from the community that ensued. Wilson also spoke about the WAC Academic Excellence Award the department's other achievements.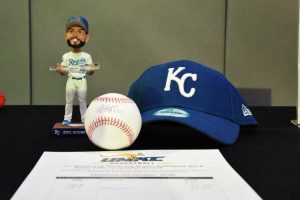 The event was set in the high-energy environment of all things basketball. Players interacted with community supporters by player arcade hoops and comparing wing-spans.
In addition to plate purchases, supporters had the opportunity to bid on a variety of sports oriented auction items, including an autographed ball and bobble-head of Kansas City Royals player Eric Hosmer.
The Roos also gave an exclusive debut of this season's new hype-video to get the crowd amped-up for pre-game, and give a quick run-down of who's hitting the courts.
"It's good to see everyone come out and support us," said Broderick Robinson, a senior guard who stands 6-1, 195 lbs. averaging 4.7 points per game last season. "We want to win and that's what we're going to do."
The Roos suit up for their first game Nov. 3 at the Municipal auditorium. To stay up on game times and dates, visit http://www.umkckangaroos.com/ and the U-News website https://kcroonews.com/ for more in-depth sports coverage.