Sam Danley & Emily Park
A financial double whammy hit UMKC last week.
First, the governor announced $70 million in proposed cuts to higher education. Then, the Muriel McBrien Kauffman Foundation withdrew its $20 million pledge to help fund the Downtown Arts Campus.
After the Kauffman Foundation announced it will no longer provide funds to help build a new arts campus, local media broke the story, with headlines declaring the project "on the brink of collapse."
While the news that UMKC's Downtown Arts Campus lost nearly a fifth of the $98 million needed in funding is only the latest in a string of setbacks, school officials quickly refuted claims that the project is doomed.
In a letter to the UMKC community on Friday, Interim Chancellor and Provost Barbara Bichelmeyer called reports of the project's demise "greatly exaggerated."
Bichelmeyer acknowledged the project's unsteady path to funding, which began last summer when Greitens vetoed legislation to provide $48 million in state bond funding. Many speculate the Kauffman Foundation's decision to withdraw its pledge is a result of the project's lack of state funding.
Bichelmeyer assured community members the school is not ready to call it quits on plans for the downtown campus. She also said it is important to "take a step back" and consider the state of not only UMKC, but higher education across Missouri.
Referencing three years of continued cuts to state funding for higher education, Bichelmeyer said that in the coming months, Missourians will have to make fundamental decisions about their future.
"Do we continue to invest in growth? Or do we limit ourselves to stagnation and decline?" asked Bichelmeyer.
"If our leaders want to deliver on promises of a better future, they must realize that higher education is not an expense, but an investment – the only investment they can make that will deliver better jobs, better health, growth and progress."
The news that the Downtown Arts Campus lost a significant portion of its private funding came on the heels of another potential blow to UMKC.
After weeks of controversy, Missouri Gov. Eric Greitens proposed a $70 million budget cut for public colleges and universities.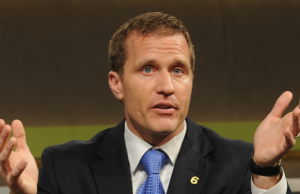 The withholding reduces the budget for higher education by 7.7% for the current fiscal year. This comes after a 9% budget cut approved by Greitens in June 2017, and after his veto that killed any hope for state funding to help build UMKC's Downtown Arts Campus.
Greitens called this new round of cuts to higher education part of a "common-sense, conservative budget."
"We're watching out for the tax dollars of the people of Missouri, making important investments in Missouri's future, and also making tough decisions," he said at a press conference last week.
However, many Missouri lawmakers believe that making important investments into the state's students is vital to Missouri's future.
Members of the Republican governor's own party have expressed concerns about proposed budget cuts to higher education.
"We cannot continue to balance the budget on the backs of students; they are the future workers and job creators Missouri desperately needs to cultivate," said Republican Sen. Caleb Rowden, who serves on the Senate Appropriations Committee, in a statement. "Continuing to neglect our public colleges, universities and trade schools seriously hinders Missouri's ability to compete."
Rowden is not alone. Rep. Scott Fitzpatrick, a Republican from Barry County, told The Kansas City Star he has doubts about the proposed cuts' effectiveness.
"I think a desire of a lot of people in the legislature would be to not do that," said Fitzpatrick, who plans to meet with higher education leaders to discuss the impact of the proposed budget. "We're in day one of a process that's going to last four months."
As that process continues, the future of both funding for higher education and for UMKC's Downtown Arts Campus remains unclear.