In the printed issue released on Aug. 18, U-News inaccurately reported the amount of cuts made to the Theatre Department. The original budget cut proposal amounted to $800,000 which after staff cuts, was decreased to $400,000.  
The theatre graduate program narrowly avoided being disassembled entirely this summer. At the beginning of the summer it seemed as though a complete cut to the master's program would be the only solution to meeting demands for the theater department to cut its budget by $800,000. After staff changes, the cut was lowered to $400,000. Considering a nearly $0.5 million cut that the department took in 2014, many faculty expected a much lighter hit to their budget this fall.
"There was a complete disconnect between what were told by the administration in this April meeting and what they were really doing to the theater department. So the decision was made that we need to find someone who would save UMKC theatre", said Tom Mardikes, a professor and chairman for the UMKC theater department.
A social media campaign, branded #SaveUMKCTheatre was born early this summer during a rally held in Spencer Theatre. People from around the community, including Chancellor Leo Morton, filled the theatre to hear personal testimonies about the theatre program's contributions to Kansas City. Unsurprisingly, the event was dramatic and emotional, at one point testimony was delivered as a poem accompanied by congas.
"It was effective in that it got awareness out, but I think what was said, pushing the excellence of the department and trying to pull at heartstrings, didn't really change what the higher-ups thought", said Maddie Rowe, a theater undergraduate.
Nevertheless, after the event activists engaged in a letter writing campaign to the board of curators and to the governor himself. Flyers were distributed around the community and a demonstration was held in front of the UMKC billboard outside the Kauffman center that claims "Arts and culture add $1.1 billion to Missouri's economy".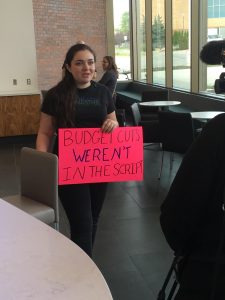 "We began a positive campaign to show how engaged we are with the community, the kind of support and dedication we get from our students, and just talk about the high quality of the work that we do as a program", said Mardikes.
This fall, there will be no terminations of faculty and the graduate program will still continue to operate. The voluntary retirements of two faculty members, Margaret Fenske and John Ezell, helped the department stay under its new budget. Additionally, Chaz Bell, one of the theater's technical directors, found new employment once he received his termination notice last spring and will not be returning. Also, two planned productions are being dropped. These developments put the program in good financial standing, but continue to leave it understaffed in the eyes of students and faculty members. For example, it has been years since there has been an acting teacher for undergraduate students.
"The actors have kind of been tossed between the grad teachers. I know the actors don't feel like there's really anyone there for them because of this factor", said Rowe.
Some students have already decided to attend different programs because of the fear there would be none this year. Budget cuts past and present threaten a program ranked seventeenth in the English speaking world by Hollywood Reporter this year. Many students are returning this year without a clear idea of what the department is going to look like or even what shows are being produced.
"Since we haven't been told a lot directly, I'm nervous about how many shows we'll end up doing or if we are doing shows that aren't co-productions with other groups. I'm nervous that this could continue, more cuts…there's a lot of uncertainty", said Rowe.
jcl9b7@mail.umkc.edu