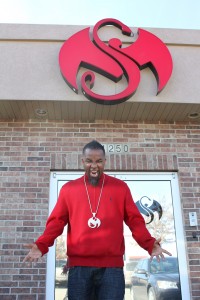 It's Valentine's Day, and I'm sitting across from local rapper Tech N9ne in "the house that rap built," his and Travis O'Guin's record label Strange Music, Inc. I'm captivated immediately by his charisma and charm. He is spending his holiday writing songs to meet the March deadline for his upcoming album. He is focused and friendly, and it quickly becomes apparent why he has been described as the Kansas City King.
Tech N9ne grew up as Aaron Yates in Kansas City, Mo.
He wrote his first rhyme in seventh grade in 1985 after being dared to rap and began rapping professionally five years later.
He went to Southwest High School, which is currently in partnership with UMKC. He used education as a tool and always craved more.
"My junior year and my senior year I really started to make music coincide with my [school] work. I wanted to be smarter in my music," he said. "I actually started going to class and learning more; so I could be smarter in my lyrics. I hate my teachers to this day, because they never did give me foreign language. I would steal psychology books and everything, because they would rather give me home [economics]."
Fortunately for listeners and fans, Tech's talent was noticed.
"It didn't hit me 'til my graduation day from high school. I won a contest months before to open at Kemper Arena, and it fell on my graduation day," he said. "The day I was supposed to be walking with my diploma, I chose to be on stage. That's when I knew what I was going to do for the rest of my life."
Tech N9ne's 2009 album "K.O.D." was the #1 independent album in its first week of release on the Billboard Chart. That same year, he won the "Left Field Woodie" at the MTVU Woodie Awards, an award show which awards the best music voted by college students.
One of the most fascinating aspects of Tech N9ne is his commitment to Kansas City.
"You've got Mr. Kansas City. That's me," he boasted.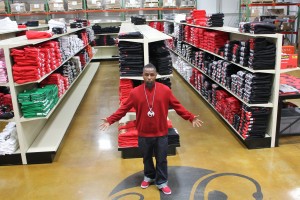 The Midwest might seem like an unlikely venue for success, but he proves otherwise. Although he has a home in Los Angeles, Calif., his "comfort zone" is the 816. "All my love is here," he said.
He aptly explains the unlikelihood of success in this area.
"Born and raised in Kansas City where there's not a Sony Midwest or a Def Jam Midwest or a Universal Midwest," he said. "You have to start your own label here."
He did just that. One aspect of Tech N9ne's skills is his ability to use his own talent to not only create a successful career for himself but also others. In 1999, he and Travis O'Guin founded Strange Music, Inc. currently located in Lee's Summit, Mo.
The name of the label comes from Tech's love of The Doors and their 1967 song "People are Strange."
"It's a blessing that we built this thing that we call Strange Music on music alone," he said. "Ten years of excellence, here we are, a million records sold."
When I stepped into Strange Music, I was taken aback. This is in the Kansas City Metropolitan area? The Strange Music logo is a bat over a snake, inspired from Jim Morrison being known as "The Serpent King." The logo is everywhere inside and out and is the diamond-encrusted necklace that Tech N9ne wears. Office rooms are occupied with hard-working Strange Music employees, and there's an area dedicated to editing and another area focused on social networking.
The most speechless moment, though, was walking into the merchandising warehouse.
Korey Lloyd, the most welcoming of hosts and Publicity Coordinator for Strange Music mentioned when the artists go on tour, they take as many as 50,000 pieces of merchandise. Besides tickets, merchandise sales are what keep artists working.
The beauty of Strange Music is they develop careers, not singles. "A lot of these artists just get their video put out and that song is big until it's gone, and they're gone," Tech said.
Strange Music is not looking for the next big song that will last for a short time and fade away like most hits. They're interested in authenticity and focus their energies into creating a sustainable following and nurturing artists' creative visions.
"The most important thing [about producing music under an independent label] is complete autonomy. That's the beautiful thing about being your own business, if you work toward it and you keep pushing toward it, it will flourish," he said.
Tech has maintained a committed fan base. Of course, one of his biggest fan bases is in Kansas City, not only because he performs live so often and maintains his business here, but also by writing lyrics about Kansas City.
The most recent ode to KC, "O.G." on the 2010 release "The Gates Mixed Plate," is a song dedicated to Ollie Gates of Gates Barbeque, one of Kansas City's best barbeque restaurants. The video even made it to MTVU and is a must listen for any Kansas Citian. "I wrote it as a tribute to them. I didn't want anything for it. I didn't want free Gates; I still pay," he said.
One of his fans includes the well-known rapper Lil Wayne
"This year's going to be the biggest year ever, because now I'm on Lil Wayne's album, and everybody's paying attention when Lil Wayne said my name," he said. "Everybody's paying attention. It's like 'what are they doing over there at Strange Music?' We're touring. If you want to be the hip hop president, you have to campaign."
Campaign he does. Tech tours constantly and as Korey Lloyd pointed out, he hits unlikely places. With many artists, fans will see them pass over Kansas City for bigger venues like Chicago or St. Louis. His dedication to connecting with fans no matter how popular the town or big the state helps maintain a dedicated following.
Tech N9ne's next album, "All 6s and 7s," will be released June 7.
"It means in a state of 'confusion and disarray.'" Tech said. "I think confusion is wonderful, because you don't think you know it all, but you really want to know. I want to know. Spiritually I want to know, mentally I want to know."
With 11 studio albums, a record label producing talented artists like Kutt Calhoun and Krizz Kaliko and a dedicated fan base, Tech proves to be a Kansas City success story. His ambitious drive to perfecting the art he is passionate about and dedication to being true to himself and his hometown shows he will keep striving towards excellence.
"You have to follow that dream in your heart," Tech said. "If I didn't, there wouldn't be any Strange Music. You have to push for it. If you believe in it, you will achieve it."
sashlock@unews.com