In 1979 director Riddley Scott unleashed the movie Alien unto the world, leaving audiences shocked, scared, and confused by what they had just seen. In the spring of 2016, Mitch Brian (filmmaker, screenwriter and UMKC Communication Studies Professor) and John Ingle (cartoonist, writer, and UMKC graduate) began to dissect the movie minute-by-minute, unraveling some of the movie's mysteries as well as looking back on its historical importance.
Brian and Ingle started The Alien Minute podcast after having a series of conversations about the movie and realizing how dense and well-made it was. The show consists of 117 episodes ranging from 15 to 30 minutes with commentary from Brian and Ingle as well as from their weekly guests.
"We had discussed Alien multiple times before," Ingle said, "and we thought it would be ripe for dissection because there are so many layers to it that could be discussed and on how well it's made and the pop culture phenomenon it has become."
"We've had a wide range of guests," Brian said, "Caitlin Horsmon from UMKC's Communication Studies department to actor Ian McNiece from Doc Martin and Doctor Who."
The point of the podcast is to focus on the filmmakers and how they made the movie, and to get people involved in discussion about the film and its importance to the cinematic realm.
"I think for sure it was an innovative film," Ingle said. "This movie's influence is everywhere. It almost closed the books on horror movies on space ships. It is the 'be-all-end-all.'"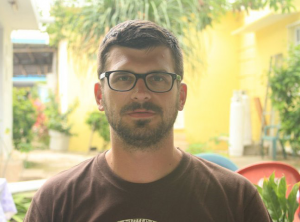 The podcast series builds up to their special screening event Nov. 2nd at the Screenland Amour Theater. The event will open to the public and admission for UMKC students is free. A conversation about the movie and special prizes will follow the film screening.
"That movie has a spell, and it will cast a spell on everyone," Brian said. "It's going to be really fun. It'll be a nice way to celebrate the movie and celebrate the podcast."
You can find The Alien Minute podcast online, as well as magazines from the time of the release and interviews with the filmmakers and artist, at http://www.alienminute.com. For further questions or conversation on The Alien Podcast email Brian brianm@umkc.edu and Ingle john@alienminute.com or join their Facebook page The Alien Minute Podcast.
zlinhares@unews.com