Alan Face
Junior Alan St. Onge's tattoos are symbolic of his political perspective, teenage rebellion and cultural views. St. Onge was first inked at age 16 in a local artist's kitchen. The tattoo displays the year 1977 numerically on his middle finger, which he chose to promote his "rebellious teenage worldview." St. Onge currently has four tattoos.
St. Onge's most significant tattoo is a hammer and sickle on his forearm, which is commonly recognized as a symbol of communism.
"Beyond its political significance, it represents a kind of optimistic ideal for which to aspire," he said. "It has also been the source of scorn from the right [wing] and curiosity to those unfamiliar [with communistic ideas]."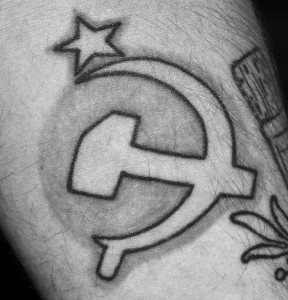 Though his hammer and sickle tattoo receives the most attention, St. Onge has other notable tattoos, which he said are inspired by his view of the world.
"All of my tattoos are in some way political, or at least culture based, and cryptic with regard to their personal significance," he said.
St. Onge, an English major, also draws tattoo inspiration from literature.
"The whiskey bottle [tattoo] has the insignia 'All the effects of intoxication,' which is an abbreviation of an Oscar Wilde quote," St. Onge said. "I find that alcohol, when taken in sufficient quantities, produces all the effects of intoxication. The bottle is also wrapped in a laurel wreath, which was, in the past, made into a crown and decorated upon poets of the highest esteem (figuratively): Virgil, Dante, etc. So the tattoo overall infuses the dichotomy of rebellion: the esoteric and the base."
St. Onge suggests the pain of getting inked is an integral part of the process.
"It's an intimate experience," he said. "You're trusting a stranger with needles to pierce your flesh thousands of times and splatter ink underneath the epidermis. You're trusting them creatively and with health and safety standards."
St. Onge has received neutral feedback about his tattoos from both friends and family. He said his mother most likely doesn't approve, despite the fact that she also has a tattoo.
In regards to his friends, St. Onge said, "My friends all like them, I suppose. I've never really asked. I describe them [tattoos] as my war paint. They're both an inclusive and exclusive gesture."
St. Onge plans to get more tattoos in the future, and has considered getting a Russian prison-style moth tattoo on his chest.
"It represents a willingness to do anything necessary to escape from the prison, up to and including cannibalism," he said.
Many argue that people will someday regret their tattoos. In response, St. Onge said, "I admire and regret them every day."
If you or someone you know has a tattoo of significance and would like to be featured in the "Tattoo of the Week" column, please contact me at kpohd7@mail.umkc.edu.
kotte@unews.com