Senior Seto Herrera's tattoo celebrates his love for "the king of pop" Michael Jackson, who he professionally impersonates during drag performances.
Herrera's first two tattoos were inked when he was 19. They are Aztec hieroglyphic symbols on both of his hips that represent movement, inspired by his love for dance and his Aztec ancestry.
His third tattoo is the silhouette of Michael Jackson on his foot.
"My MJ tattoo is especially significant because I love Michael Jackson, and I'm a professional MJ impersonator, so it's very dear to me," Herrera said.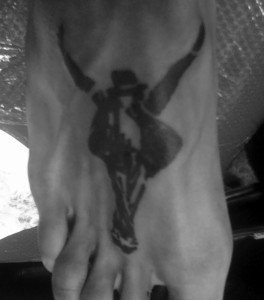 All of Herrera's tattoos are inspired by his 19-year career in dance.
Herrera was inked by his friend Leah at Lucky Lady Tattoo in Westport. He did not specify the cost.
For Herrera, one of the most significant things about his tattoo experience was the pain he endured.
"It hurt like hell, but the entire time the owner of the tattoo parlor let me play my Michael Jackson on the store radio," he said. "It was really nice and calming to listen to MJ while I got him tattooed on me. It felt kind of relaxing and reassuring that I was doing this for my love of MJ."
Herrera said the Michael Jackson tattoo on his foot was far more painful than his hip tattoos since the top of the foot is a sensitive area.
Herrera's tattoos have received positive reception from his friends.
"They know they are special and represent who I am," Herrera said. "Everyone goes wild for my MJ tattoo. It kind of proves just how much I really do love Michael Jackson, and how dedicated to him I am as an MJ impersonator."
Unfortunately, Herrera's parents did not share his friends' reaction. He tried to hide his tattoos from his parents, but was unsuccessful.
"My parents know about all my tattoos now, but they don't like them at all. They never wanted me to get tattoos," he said.
However, Herrera's parents are no longer vocal about their disapproval.
"They were really upset about my MJ tattoo because they had already told me no more tattoos after my Aztec ones, but they haven't really said anything to me since they found out," Herrera said.
Reactions aside, Herrera will always have a significant representation of one of his biggest inspirations.
If you or someone you know has a tattoo of significance and would like to be featured in the "Tattoo of the Week" column, please contact me at kpohd7@mail.umkc.edu.
kotte@unews.com