Though the American New Year occurred 11 weeks ago, the Persian New Year rang in last week.
To celebrate, the UMKC Persian Student Association (PSA) threw a New Year's celebration in the Student Union, its first one since the group originated last September.
Persian New Year, or "Nowruz," which directly translates to "a new day," has been celebrated for more than 3000 years. It is a significant part of the Zoroastrian religion, an ancient religion of the Persian Empire.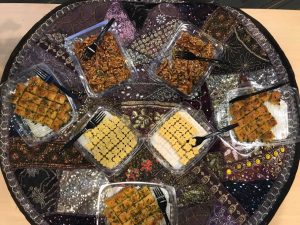 The date and time change every year, occurring at the same time as the vernal equinox. This marks the moment the sun "crosses the celestial equator" and represents when day and night are equal in length. This year, the Persian New Year struck at 11:15 a.m. on March 20.
The association threw quite the celebration for Nowruz, including videos explaining the holiday and different examples of Persian dancing.
Sticking to the basics, a traditional Persian "Haft Seen," which translates to "7 's's," was also put together for the celebration. The Haft Seen is a group of different, symbolic items that begin with the letter S in Farsi (Iran's national language) placed together on a tapestry. For example, an apple, or seeb, represents health. A coin, or sekkeh, represents wealth for the upcoming year.
Sheyda Kiani-Mehr, PSA treasurer and a traditional Persian dancer, talked about how Nowruz is a "really, really holy event for us."
According to Kiani-Mehr, Nowruz is a source of happiness among Persians across the world.
"It was a good chance for us to introduce what Nowruz is," said Kiani-Mehr, referring to UMKC's event last week. "And a really good chance to show people our culture."
rhnbd@mail.umkc.edu