Stop depriving your grilled cheese of its true potential. You and your sandwich deserve better.
The judgement-free breakfast grilled cheese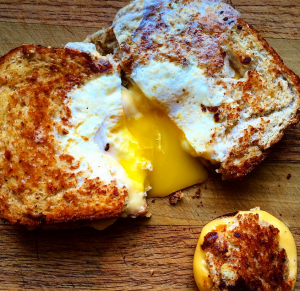 Ingredients:
Two slices of bread, preferred
1 large egg
butter
cheese, preferred
Directions:
Place an ample amount of cheese on a slice of bread and top with a second slice of bread.
Melt at least 1 tbsp. of butter in a nonstick skillet over medium heat. (Probably more like two tbsp. but hey, it's your life.)
Lay the sandwich right down in the bubbling butter bath.
Cook for a couple minutes on each side, until the bread is golden and the cheese is melted. Then, slide the grilled cheese onto a cutting board (a plate will also do).
Use a narrow glass to cut a hole in the grilled cheese approx. two to three inches in diameter.
Melt another tbsp. of butter in the pan, still over medium heat, then slide the grilled cheese back in.
7. Crack an egg right into the hole.
Cook for approx. three minutes, then very carefully flip the grilled cheese over.
Cook for another minute, then slide the grilled cheese straight onto your plate.
Photo and recipe from buzzfeed.com.
The baked potato grilled cheese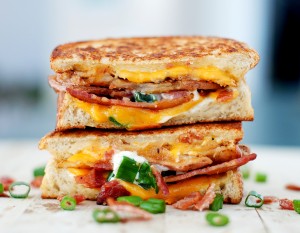 Ingredients:
2-3 strips of bacon
1 potato
2 tbsp. of sour cream
cheese, preferred, desired amount
green onion
2 slices of bread, preferred
butter
olive oil
garlic powder
salt & pepper
Directions:
To start things off, get a pan on medium heat with enough oil to lightly cover the bottom. Cut your potato into even slices, approx. 4-5 slices for the sandwich, then place them in your pan, cooking each side until brown and crispy.
While cooking, salt and pepper the potatoes to taste and sprinkle in a light pinch of garlic powder.
In another pan, cook your bacon on medium heat to desired tenderness.
While everything is cooking, prepare the bread and generously butter the outside of each piece. Place approx. one tbsp. of sour cream on each slice and top with cheese.
Once the potatoes and bacon are finished, dab them on a paper towel to remove any excess grease, then fan the potatoes out on the bottom slice of bread (put a little more sour cream on top of the potatoes if you desire).
Slice up one green onion stalk and spread it on top of the potatoes, along with the bacon. Top with second slice of bread.
Grill the sandwich on medium heat until each side is golden brown. Enjoy!
Photo and recipe from bsinthekitchen.com.
The taco that thinks it's a grilled cheese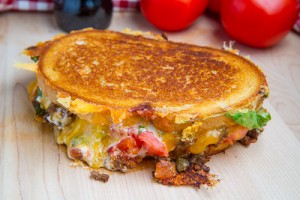 Ingredients:
2 slices bread, preferred
1 tbsp. butter
2 slices cheese (or 1/2 cup shredded), preferred
1/2 cup taco seasoned ground beef (or chicken or tofu)
2 tbsp. salsa
2 tbsp. lettuce, shredded
2 tbsp. tomato, diced
1 tbsp. sour cream
1 tbsp. guacamole (optional)
Directions:
Heat a pan over medium heat.
Butter one side of each slice of bread.
Place one slice in the pan with buttered side down, top with half of the cheese, meat, salsa, lettuce, tomato, sour cream and guacamole. Then, add remaining cheese and top with the other slice of bread – buttered side up.
Grill until golden brown on both sides and cheese is melted, approx. 2-4 minutes per side.
Serve with extra salsa, guacamole and sour cream for dipping or topping.
Photo and recipe from closetcooking.com.
The grilled cheese that really loves Oktoberfest
Bratwurst, Sauerkraut and Muenster Grilled Cheese on a soft pretzel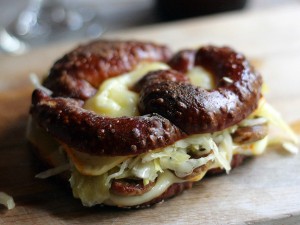 Ingredients:
1 tbsp. softened butter
1 tbsp. olive oil
1 large, "fat" soft pretzel sliced in half
1-2 tbsp. mustard, preferred
4 slices Muenster cheese
1 bratwurst, grilled and sliced
1/4 cup sauerkraut
pepper to taste
Directions:
Heat olive oil and butter in a frying pan over medium low heat.
Spread mustard on the cut side of each pretzel half. Place halves in the pan, "crust" side down, then carefully arrange slices of Muenster cheese to cover both halves.
Cook the pretzels until the cheese is almost melted, but not completely. If the cheese melts all the way while in the pan, it will "drip" through the pretzel openings too much.
Remove the pretzels from the pan. Place sliced bratwurst on the cheese, then pile on the sauerkraut. Add some fresh cracked pepper.
Put the two sandwich halves together. Enjoy!
Photo and recipe from tastespotting.com.
The sammy that doesn't know if it's breakfast or dessert
Pear, Raspberry and Bacon grilled cheese sandwich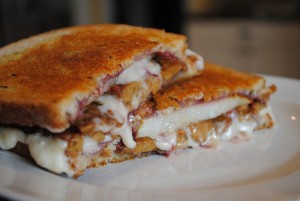 Ingredients:
4 strips of bacon (or vegan bacon of choice)
Applewood smoked sea salt
2 slices of bread (the heartier, the better)
1-2 tbsp. of raspberry jam
1 ripe pear, thinly sliced
Mozzarella cheese
2 tbsp. butter
Directions:
Preheat pan to medium-high heat.
Cook bacon thoroughly, according to package instructions, sprinkling with a little of the smoked sea salt. Set aside.
Take one slice of bread, butter one side, spread one tbsp. of jam on the other side, then place in the pan butter side down (jam side up).
Layer with pears, bacon and cheese.
Turn heat to low and cover pan with a lid, to let the cheese get as melty as possible. This should take approx. one minute or two (be sure not to burn the bread).
Once the cheese is melted, spread butter and remaining jam on the two sides of the other slice of bread.
Place the second slice (butter side up) on top of the rest of the sandwich, then flip it all over to brown on the other side.
Enjoy!
Photo and recipe from thatwasvegan.com.