Rebounding was key to UMKC's 66-77 loss last night against UT Martin Skyhawks.
During the Skyhawks first possession they couldn't manage to make a basket. UT Martin missed three consecutive opportunities, on the glass, after getting two offensive boards. At the end of the night the Roos were out-rebounded 59-27.
"We got to get our toughness back," said Coach Kareem Richardson. "More importantly our defensive toughness. Kind of get – what we like to say – some swagger back in our step."
Except for LaVell Boyd, both teams were plagued with poor shooting. He put up 32 points for the Roos.
The key to UT Martin's success was senior forward Kedar Edwards. At half time, Edwards already had a double-double with 14 rebounds and 12 points. He was constantly looking for the best pass and that allowed him to see the whole court. He finished the night with seven assists.
The Roos were in control of the game until four minutes left in the first half. Boyd got in some early foul trouble and the rest of the team struggled to knock down shots. UMKC's shooting percentage (FG, 3FG, and FT) at half was 29 percent – without Boyd it was 10 percent.
"I continue to have confidence that my teammates are going to make open shots," said Boyd. "The main thing is rebounding and defending. That's all we are going to focus on for the next couple days, and when we get back from Christmas."
UMKC forward Broderick Newbill started against UT Martin and contributed eight points. Newbill also led the full-court press. He went 3-7 from the field and shot 1-3 from downtown.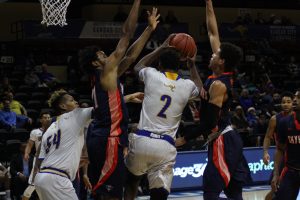 The second half was a battle for UMKC to get back in the game. The score teetered between an eight and 12-point lead for UT Martin.
UMKC freshman guards Isaiah Ross and Xavier Bishop had a slow start to the game. Their shots, like their teammates, seemed to rattle inside the bucket and refuse to fall. They finished the game with a combined 16 points, most of which came in the last 10 minutes.
UMKC has time to work on things before their next game, Dec. 29 when they take on Mississippi State in Starkville, MS. They begin the New Year with a home game on Jan. 2 against USC Upstate. After that conference play begins for the Roos.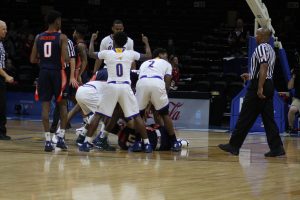 rhennessy@unews.com