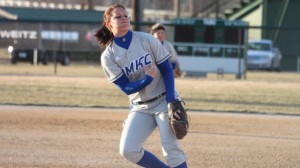 The softball team opened up Summit  League regular season play by dropping two of three games at 3&2 Field in Kansas City. In a Saturday morning game, the Roos dominated in a 7-1 win before the Coyotes recovered to complete a shocking 3-2 victory in the afternoon. The Coyotes won the rubber match Sunday, 6-5 as the Roos scored three runs in the bottom of the seventh inning, and just fell short. The Roos now stand 10-7, including 1-2 in the conference.
South Dakota 3 – UMKC 2
In game two, the Roos trailed 1-0 until senior Megan Ussary's RBI single to center allowed senior Kaelene Curry to slide home after a throwing error by Coyote outfielder Katie Dinning.
Neither team managed to score until Coyote Allie Daly smashed a home run off freshman Cinda Ramos, giving the Coyotes a 2-1 lead.
The Roos responded immediately when senior Anna Sokolik's single brought home junior teammate Emily Ott, tying the score at 2-2.
In the seventh inning, Dinning tripled to right-center and was singled home by Alexa Rudeen, giving the Coyotes a 3-2 lead.
UMKC 7 – 1 South Dakota
In the day's opening game, despite falDespite falling behind 1-0 at the top of the third inning, the Roos produced a big fourth inning to put the game out of reach.
Ussary tripled to right field to score fellow senior Kelly Fischer. Then, Ott produced a RBI-triple to score Ussary and give the Roos a 2-1 lead. Junior Chelsea Hartwig singled to left field to score Ott. Senior Ashley Whiteside, pinch running for Hartwig, took advantage of two throwing errors by Coyote outfielders to score. Freshman Marlee Maples later brought Sokolik home, giving the Roos a 5-1 lead.
Despite loading the bases in the top of the fifth, junior pitcher Deanna Friese retired the next three Coyote batters. In the bottom of the fifth, the Roos scored two more runs, thanks to a sacrifice fly by Ussary and an RBI double by Hartwig.
On the mound, Friese (3-4) completed her seventh game of the season, with five strikeouts and six hits allowed. Ott and Hartwig each went 2-for-3.
The Roos will now travel to compete in the Kentucky Invitational on March 16-18 against North Carolina State, UAB and Kentucky in Lexington, Ky.
lharman@unews.com