UMKC defeated UT Rio Grande Valley, 83-79 Saturday night. It was an exciting game until the final whistle, with the Roos and Vaqueros trading the lead 10 times.
The win helped UMKC improve their conference record to 1-1, and break a six-game-losing-streak.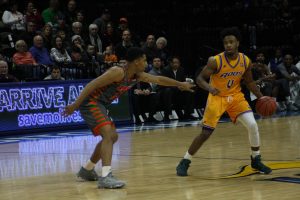 "The biggest thing we did tonight – when diversity hit we stayed together," said LaVell Boyd, "we didn't separate or disperse from each other, we held it up and stuck with it."
The team earned the win with 50 percent shooting from the field and good ball movement.
"In total we had 19 assists," said LaVell Boyd. "It's conference – you just got to be up for it."
Isaiah Ross had 17 points and contributed nine points from downtown. The team shot 50 percent from behind the arch.
"I feel like we were having more fun out there," said Ross. "We've been playing basketball all our lives, it's nothing new, no new-game, same strategy, same work ethic – just keep pushing."
Five players had nine or more points for the Roos including Dashawn King (12), Broderick Newbill (9) and Xavier Bishop (9). King and Bishop both contributed 4 assists each.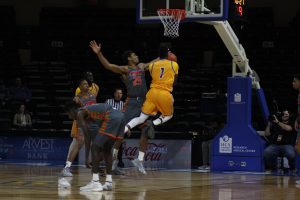 UMKC came into the game with energy. The tone-setter was King's one-handed slam-dunk to begin the game. The Roos rode that momentum and held onto the game's lead for the majority of the first half.
"We showed the guys on film about our energy and how everybody can bring more," said coach Kareem Richardson. "We grew from Thursday's game."
UMKC lost that game, 64-77 to New Mexico State. Coach Richardson noted the tempo the Aggies played with and how it dictated the game in a post-game interview.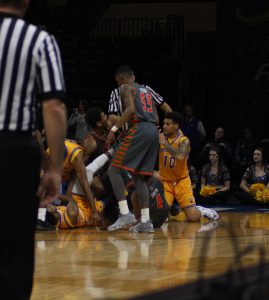 Emotions from the game ran high, as they typically do in conference matches. On one particular play, eight players were piled up – trying to get possession of the ball. After whistles from the referees, Richardson was out at half court telling his team to come over to the bench.
"I want our guys to play competitively, but do it the right way," said Richardson. "No need for trash-talking."
The referees reviewed the play and decided to not penalize either team.
UMKC plays Seattle University Thursday in Seattle. The team's next game at Municipal Auditorium is Thursday, Jan. 26 at 6:05 p.m. when they play Grand Canyon.
rhennessy@unews.com