"Making a pretend mask just didn't work!" Violence Prevention Coordinator Kacie Otto exclaimed Tuesday at the Women's Center's "Unmasking Rape Culture" event.
Otto held up a mask adorned with feathers, jewels and hand-drawn pictures. On one side, she represented outward positivity and reputation, including popularity on social media and perfect outfits. The other side, illustrated with somber shades of black and dark red, reflected the often hidden realities of rape and rape culture: anxiety, depression and insomnia.
Otto said her intent was to encapsulate what effects rape culture "might" have on victims, but instead her own experiences reemerged. This emotional investment fueled the workshop, which strived to encourage creative, unrestrained and often cathartic self-expression.
"When you're making art, you're using a different side of your brain," Women's Center Assistant Director and artist Arzie Umail said. "The rational side gets to shut down. You let the creativity side open, and that's when you go deep and get to know your real feelings."
For graduate student Antonio Higgins, these feelings concerned the childhood sexual abuse of a close relative. His mask became an exploration of her complex struggle.
"The brokenness, the stigma, the whole hush-hush dynamic, that's [depicted] on one side," Higgins said. "On the other side, she had to be pristine, she had to cover it up, she had to pretend she didn't have trauma."
Meanwhile, alumna JoAnn Andre found the activity dragging an old, painful memory back to the surface.
"My father was stationed in the Philippines, and my mother was left behind with three daughters," Andre said. "There was a man who started stalking our house… I can remember it to this day. We were all frightened, and my mom left me to babysit as a pre-teen. She called the police, and [they] said, 'Well, look at your daughter. She's the reason why this man is coming around.'"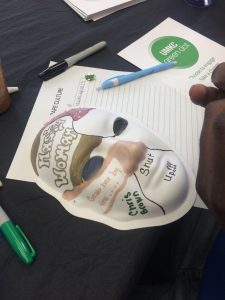 Andre's mask mirrored this victim-blaming attitude, which led to internalized guilt and shame. Across the mask's cheek, Andre scrawled, 'Am I a slut?', 'Why me?' and 'Did I deserve it?'.
As participants passed around multicolored paints and sparkly pipe cleaners, the free-flowing conversation turned to themes of language and how it is used to excuse or justify rape, as well as media representations of rape.
According to law student Kim Hardeman, the tangible and visual aspects of the workshop made these ideas more accessible and easier to discuss.
Despite Andre's fears that her artwork appeared "crazy" and Higgins' worry that he would be the only man at the workshop, each student announced that they learned something.
Perhaps Otto, the event's co-planner and the first to decorate a mask, summed it up best when she said, "I'm always hesitant to make art — but once I do, I feel so much better."
For a list of future Women's Center events, visit info.umkc.edu/womenc/calendar, or stop by their office in 105 Haag Hall.
krl7b2@mail.umkc.edu