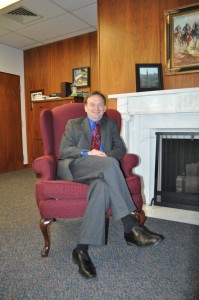 One year and two promotions later, Arts & Sciences dean Wayne Vaught is optimistic about the future of the college. On July 1 of last year, he filled the void created by the resignation of former dean Karen Vorst by accepting the position of interim dean. On March 6, the permanency of his position was announced.
He is ambitious about growing enrollment in the college, and said that a projected shortfall of $2 million in state allocations, about 10 percent of the college's total revenue, is unlikely to impact students' educational experience.
Q: How do you feel the past year has gone for the College of Arts & Sciences?
"I think the year has gone well. We're still dealing with state budget cuts, but have made progress trying to establish fiscal responsibility."
He noted that the number of online courses the college offers has tripled in the past year.
"This will make it easier for students to graduate. We have added more than 24 online courses, and now have well over 30 online courses total."
Vaught is confident about the qualifications of his colleagues.
"We're trying to aggressively recruit the best and brightest students and faculty. We've had two professors win President's Awards, the highest-ranking awards in the University of Missouri system."
Joy Swallow, Chair of Architecture, Urban Planning + Design, won in the category of Citizenship-Leadership.
Anthony Caruso, Associate Professor of Physics, won in the category of Early Career Excellence.
Q: What will you do to increase enrollment despite budget cuts?
"We've hired a new marketing director and have really stepped up what departments are trying to do to attract new students."
He praised the Department of Art and Art History for the open house it hosted last Friday to attract new students, "This is what we want more departments to start doing."
He said building the foundation for student success is the number one goal of the college.
The U-First program tries to identify struggling students and connect them with resources to help them succeed.
"If we can identify these students early on, it's easier to keep them on track for graduation."
Q: How will the budget cuts impact course offerings?
"In some cases, it could mean slightly larger classes. We've asked departments to look at strategic class enrollment."
Vaught said existing facilities and small classrooms have put a cap on how many students can enroll in certain courses.
This will change as a result of the groundbreaking of the Miller Nichols Library expansion. The addition will include lecture hall spaces with between 150 to 300 seats each, which Vaught said will be able to be partitioned into smaller classrooms.
"We're hoping to begin another growth mode in the near future. We'll ultimately see an increase in hiring. Right now, we're doing our best to constrain costs and look at efficiency."
The focus, he said, is to protect the academic core of the college.
"If you're going to increase enrollment, you must preserve the academic integrity of your courses."
Q: What is your commitment to a new downtown arts campus?
"I'm excited for the potential of the downtown arts campus. It would build synergy between various departments and the KC Rep. Having the Rep in a different facility on the other end of town makes it difficult for them to interact."
The Theatre Department, Studio Art program and Film Studies program have also expressed interested in a downtown campus, originally proposed for the Conservatory of Music and Dance.
Although the logistics and finances of the downtown campus are in the feasibility study phase, Vaught is optimistic.
"It would create great visibility for the campus. Some students, especially art students, crave an urban setting."
Q: What are the outcomes of the General Education Oversight Committee?
"Tom Stroik and Linda Plowman are now leading it. They are circulating a proposal on how to structure the 30-hour cross-campus core requirement."
Faculty Senate will vote on the proposal later this month. Vaught said the proposal will focus on developing a model for general education that meets the set of learning outcomes approved by the General Education Oversight Committee last year.
Q: What is the most important issue facing A&S?
"The most important issue is improving and enhancing student success so that students graduate in a timely fashion."
Vaught said he will aggressively solicit grants, gifts and donations to decrease the debt burden on students.
He said he talks to donors every week, and that a new scholarship fund has been established in honor of the late Communications Department Chair Carol Koehler, who passed last year.
nzoschke@unews.com