Sheery DeJanes is a local attorney and founder of SMART KC, an organization opposed to the streetcar expansion project. U-News spoke with DeJanes this week about the lawsuit she filed against the state of Missouri, the Secretary of State and 50 streetcar petition sponsors, and her work with SMART KC.
Q: How did you first get involved with the whole streetcar expansion issue?
A: A neighbor of mine was talking to me about a proposed streetcar expansion. I hadn't heard about it before, so we decided to go to a meeting and find out more information. I know Doug Stone [an attorney for streetcar petitioners] was there, but I don't remember who else spoke. I asked a lot of questions at that meeting, and felt like I was getting the run around. My questions weren't really answered. So, I went and did my own research. Come to find out, I didn't support what they were doing.
Q: And when did you form your organization, SMART KC?
A: I formed SMART KC in 2013. SMART KC stands for Supporters of Modern Affordable Regional Transit. We're not anti-transit. We are in favor of something that is going to provide transportation, get people to and from their jobs, get them to and from the places they work and play, and not just along a central corridor. And not something that's going to cost $61 million a mile. That's what the proponents are saying. What typically happens is that the projected amount is usually exceeded by 12-25 percent, minimum. We're just not looking at all the costs that are going to be involved with this.
Q: It seems like there's two separate but related issues going on here. First, you have the streetcar expansion, and then there's the special mail-in election that happened back in August. Can you explain why you filed a lawsuit against the State, the Secretary of State and all the petition's sponsors for that special election?
A: With the mail-in election, first of all, you have to know there's going to be an election. People must know there's a ballot. To be able to vote, you either had to download a form online or go get one in person to request a ballot, which is then mailed to you and must be filled out in front of a notary. Some of the ballots were received, but some people never got theirs.
These built-in obstacles to voting disenfranchised two segments of the population, those living in poverty and the elderly. To participate in the election, you had to have access to a computer and transportation.
People think disenfranchisement stops people from voting, but that's not the case. Disenfranchisement is anything that makes voting more difficult, and that's what happened with the TDD mail-in election. We think that is unconstitutional.
Q: If your lawsuit is successful, and the courts say the election was unconstitutional, what does that mean for the streetcar expansion project?
A: They wouldn't necessarily have to go back to the drawing board, but they would have to go back and take the election to the ballot box and get rid of those built-in obstacles to voting.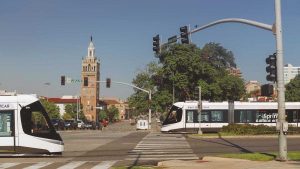 Q: And what about the actual streetcar expansion project? I've heard lots of talk about taxes and property assessments. What do the consequences of all this look like, and how are they going to be felt?
Anyone in a low-income bracket is going to be affected by the one percent tax… So, the folks that are just barely scraping by, they're going to get hit with that additional tax in a disproportionate way.
The special assessment is particularly bad because, since it's not a property tax, it affects the non-profits. Let me give you two examples. The Redemptionist church that is at the corner of Linwood and Broadway, over the 25-year life of the special assessment, that church will be paying over $100,000. That's an organization that has a high school on its property, it's got a senior center on its property, it's got a food pantry on its property. It provides a whole host of services to the community. Being hit with that tax means they're going to have make decisions about what services are going to be cut back or eliminated.
St. Paul's, which is at 43rd and Main, has gone on record stating that over the life of the assessment, they'll pay over $300,000. They've said the same thing. That's going to cut into the services that they are going to be able to provide.
Looking at the huge campus that St. Luke's has, that's a nonprofit. Our hospital bills are likely going to go up because it's going to be paying such huge amounts every year on that special assessment. Anybody [who] goes to the hospital is going to be negatively affected.
Anybody [who] rents an apartment is going to be negatively affected. The landlord whose property is going to be hit with a special assessment isn't going to just eat that special assessment. He or she is going to pass that on to the renters.
Every person in the TDD and every person who comes and shops in the TDD will be affected. Vendors will be affected because if you're looking at going to an H&M on the plaza, versus an H&M AT 119TH and Metcalf. If you're going to be hit with a special tax [at the plaza], you'll just go across the state line and buy the same thing and won't pay the special tax.
Q: How can people who are opposed to the streetcar expansion get involved with SMART KC?
A: They can come online to be BESMARTKC.com and send us an email.
Correction: In a previous version of this story, St. Luke's was incorrectly referred to as St. Paul's. 
Sd6w8@mail.umkc.edu